West Ham United captain Mark Noble was determined his teammates would deliver a performance to be proud of in their 1-0 win at Stamford Bridge on Saturday.
As the Hammers sought their first Premier League win since late September, those clad in Claret and Blue defied the form book to stun the Blues with West Ham's first win at the ground since 2002.
Speaking with typical honesty, Noble emphasised after the game that he felt the manner of the display would prove more important than the result – although he was delighted with both.
"It was a great result for the team and for the fans and that's what I've been saying," Noble told West Ham TV. "I said it last week in the press after the Spurs game: I was open and honest that if you win your tackles, and if you win your headers, and if you run around and you give it everything, then you've got a chance. 
"I said to the boys before we walked out the changing room today: 'Forget about the result today, I want a team to walk off that have worked for each other, and a team that the fans can be proud of,' and that's what we got."
 
To get a 1-0 result here, Chelsea away, first win in 17 years… I've been involved in a lot of games here... but today was pretty special

Mark Noble

Although Chelsea were clear favourites heading into the contest, West Ham's display was one far from that of plucky underdogs at Stamford Bridge, enjoying a number of chances to take – and then double – their lead.
Such quality shone through after 48 minutes when Aaron Cresswell burst forward from left-back, taking Pablo Fornals' pass in his stride before cutting in and curling a right-footed finish into the bottom corner.
"There was a lot of quality [in our performance] – a lot," Noble noted. "We created some really good chances actually against a top Chelsea team, but you have to do the horrible things as well, and I thought we defended well. 
"I thought Angelo [Ogbonna] and the back four were fantastic, and the way we defended as a team – they had a lot of possession, we knew that was going to happen – but the way the team defended… and I say 'the team' because all eleven of us were fantastic.
"[After the goal] I didn't even celebrate, I just wanted to get the team back in our half because I knew there was [more than] 30 minutes to go. Cress has come up with some real important goals. You need that though… you need your full-back to score, or a midfield player or your winger. 
"To get a 1-0 result here, Chelsea away, first win in 17 years… I've been involved in a lot of games here, a lot of draws and a lot of losses, but today was pretty special."
 

Naturally, Noble reserved a few words of praise for 33-year-old goalkeeper David Martin, whose Premier League debut between the posts helped the Hammers to a well-earned clean sheet at Stamford Bridge.
"You can't help but be buzzing for Dave, big Dave," Noble beamed. "He's come in not expecting to play at all when he came in in pre-season, and to have your Premier League debut at Chelsea away and go and get a 1-0 result and keep a clean sheet – it's what dreams are made of. I'm just so happy – I was nearly crying for him after the game.
"I saw him [crying at the final whistle] and I nearly went myself, because I know how much it means. He's a West Ham fan, he's been to games in the crowd, his dad's an absolute legend here. For him now, to sit at the Christmas table with his dad – what a lovely feeling you know.
"It could've gone horribly wrong today and we know that, but for Dave, for his family, for his Dad, for his brother, what a special day and today belongs to Dave."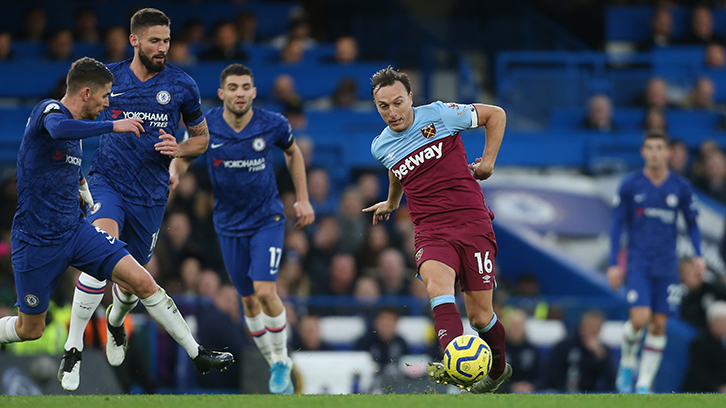 Having reserved their celebrations to Saturday, West Ham face a quick turnaround for their next Premier League test: a trip to Europa League team Wolves on Wednesday evening.
For Noble, it's crucial the Hammers repeat this weekend's endeavour at Molineux in a game that will be broadcast live in the UK by Amazon Prime.
"If we play like that and that intensity and that hunger in the way we run and press and tackle and head, then we've got a chance," he said.
"If we don't, then we're just going to go back to what we have been doing. You can't say it enough times that in this league, if you are not on it a hundred per cent you get punished, but today with a little bit of luck, some really good play and some hard work, we got three points."