Declan Rice admitted he wanted to jump into the stands and celebrate with the Claret and Blue Army following West Ham United's 1-0 Premier League win at Chelsea.
The England midfielder returned to haunt the club which released him at the age of 14 with arguably his finest performance in a Claret and Blue shirt.
Speaking to whufc.com after a memorable victory at Stamford Bridge, the 20-year-old paid tribute to his teammates and insisted the Hammers need to keep the momentum going at Wolverhampton Wanderers on Wednesday evening.
Dec! What a performance! What a result!
"It's typical West Ham in a way – don't win in eight and then produce a performance like that! It shows we have still got the grit, the desire and the determination to go out there and put in a performance like that."
Every player contributed to that win, didn't they?
"You know what? Nobes got us together before the game and, with a couple of swear words in there, told us we had to be up for the game today. It's a London derby, we hadn't won in eight and if we'd lost we would have been bang in trouble and we knew. We worked on our gameplan and frustrated Chelsea and even thought it was one-nil, I thought it could have been much more. We thoroughly deserved to win today and you can see I'm absolutely buzzing!"
It wasn't just hard work – there was a lot of quality in that performance as well?
"We played very well. Obviously the fans don't hear it but the manager tells us every week that we need to be a big team. We've got the the fans, the stadium and the owners who believe in us and we need to be a big team now. We need to be able to play, defend, attack and work hard and I think you can see from that performance that we passed the ball really well at times, created some fantastic chances and that's a fantastic performance we can all be proud of."
We need to back up that win and performance with another one at Molineux on Wednesday night, don't we?
"It's exactly that. Straight away now, we're buzzing in the changing room but focus has got to turn to Wolves now. There's no point putting in a performance like that and then going to Wolves and getting turned over because then we're back in the deep end. We've got the confidence back now, which hasn't been there on matchdays, when we haven't really been turning up, so we're going to go into that Wolves game with 100 per cent spirit and desire and hopefully we can get another three points."
Aaron Cresswell scored with his right foot, which you don't see too often?
"It was life a golf club swing, wasn't it?! No, he does that so well, bombing on. Usually you see him in the wide areas but look at the goals he scores. At Bournemouth away, he was in exactly the same area. Today, he's cut back on his right and it's a lovely composed finish and I couldn't be more happy for him."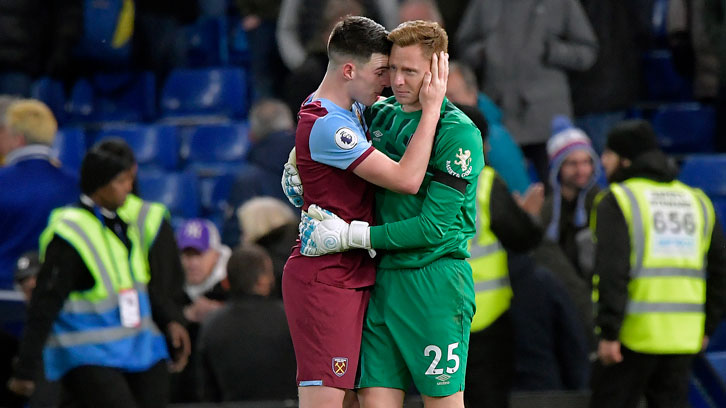 And lifelong Hammer David Martin, on debut, kept a clean sheet in a 1-0 win at Chelsea!
"He went down on his knees at the final whistle and was crying his eyes out and I felt like crying for him because I'm telling you now, he's been in since pre-season and is one of the most hard-working, nicest, humble men you could ever meet. The lads absolutely love him. He's such a good person to have around. He's always in a good mood, laughing, joking and he's waited for his chance and today he took it. He made some great saves, was commanding his box and I couldn't be more happy for Dave. He's a great fella and he deserves everything he's going to get today."
For you, what a performance against your old club! Some might say it was Patrick Vieira-esque!
"Ha! I can only do my best for the team every week. Of late, I haven't been great, I know that myself. I needed a big performance up against Mason, Kovacic and Jorginho in midfield because they aren't up there in the top four for no reason. My performance alongside Nobes – and a big shout out to him because we worked so hard to nullify them and our gameplan worked – I'm so, so happy!"
With that support and everyone working together, we can achieve great things…
"You're right, we can achieve great things. We see the social media stuff and it's frustrating for us, as it is for them. It's the worst thing in the world, losing, trust me. We get their frustration as we've signed these players and we're not doing as well as the thing we should, but days like today we've put smiles on their faces. I wanted to jump in the crowd with them! I get so happy! My emotions just come out of me. Seeing them singing 'I'm Forever Blowing Bubbles' and Dave's name was unbelievable. Those fans are the best in the world for me."