Robert Snodgrass is a West Ham United player now, but he has also kept a close eye on how his old club Norwich City have been getting on - and he has been mightily impressed.
The Canaries adopted what the Hammers' Scotland midfielder calls the 'German process' in summer 2017, joining the likes of Liverpool, Huddersfield Town and Barnsley in hiring young German managers or head coaches.
At three of the four clubs, the decision has paid off, with former Borussia Dortmund II coach Daniel Farke guiding Norwich back to the Premier League at the end of his second season at the helm in May.
"I'm delighted for them," Snodgrass confirmed, in a revealing interview with the Official Programme for Saturday's fixture between the two at London Stadium. "It's a club that's had a few ups and downs in the last six or seven years and they've had a process where they changed the sporting director, bringing in Stuart Webber, who had followed the German process in what he did in his previous role as director of football at Huddersfield, and it's paid off."
With Webber's assistance, Farke has put together an open, attacking side that combines exciting home-grown products – many of whom developed under current West Ham Academy Manager Ricky Martin – and meticulously scouted overseas signings.
A keen football watcher, Snodgrass enjoys what he sees.
Everybody's driving to get into the Premier League, so I wish them Norwich the best – but when we come up against them, we'll want to beat them

Robert Snodgrass
"They've got two full-backs who like to get forward [in Max Aarons and Jamal Lewis]," he observed. "They've got the little boy [Emi] Buendía, who likes to play through balls, playing off [striker Teemu] Pukki. They've got Todd Cantwell, who likes to get forward and cause problems as well.
"I've watched them and they've done brilliantly in the Championship but this is the Premier League, this is the elite level. If they do it in the Premier League, that's when their name will really get out there. What you've done in the Championship's really forgotten about when you come in at the elite level, in the big league.
"Everybody's driving to get into the Premier League, so I wish them all the best – but when we come up against them, we'll want to beat them, which is all part and parcel of football. It's a terrific club and I'm glad they've come in here with the mindset to have a go."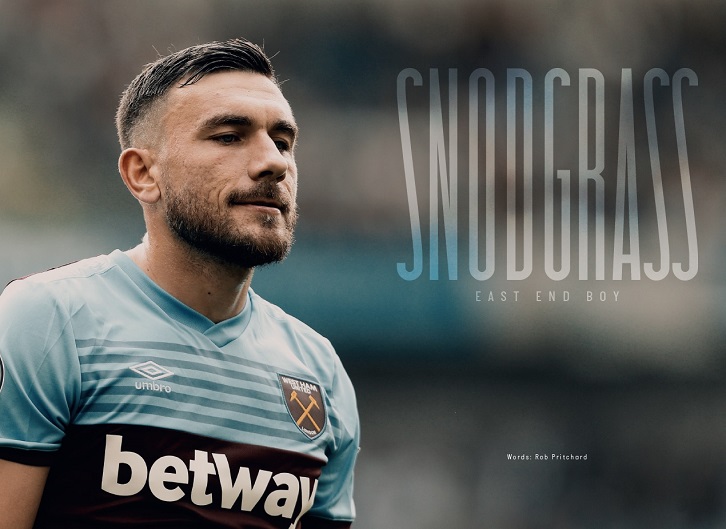 Snodgrass dons the cover of issue three of West Ham United's new-look 116-page Official Programme – Hammer – for the 2019/20 season.
The eye-catching publication sees the Club make a move away from the traditional format to produce a football magazine that will maintain supporters' interest long after the final whistle.
With cutting-edge design, exclusive interviews, attention-grabbing opinions and eye-catching photographs, plus the regular news, columns and statistics and insightful content from across all areas of the Club, Hammer is the definitive Claret and Blue publication for West Ham fans.
Priced at just £3.50, Hammer is also the best-value matchday magazine anywhere in the Premier League. Issue three for Saturday's Premier League meeting with Championship title-holders Norwich City is available to order now online.
The only way to guarantee every issue is delivered straight to your door is by signing up for a seasonal subscription!
Whether you are planning to be at the match, watch at home or are simply a loyal West Ham fan or collector, the easiest way to get your copy each week is to subscribe. The deal includes all home Premier League, Carabao Cup and FA Cup home fixtures, so subscribe now!
Prices start at just £110 for UK delivery, and they can be shipped worldwide regardless of where you follow Manuel Pellegrini's men from.
Subscriptions can be bought via ProgrammeMaster's online store now here, or over the phone at 020 7121 5000.
Digital Programmes
If you can't make it to the ground, you can still flick through the programme on a matchday by subscribing to our digital version via the West Ham United official programme app.
Once you download the app from the AppStore or Google Play you can snap up a seasonal subscription for only £24.99, which will automatically be downloaded to your device 24 hours before kick-off. Individual copies can also be bought for £1.99.
These digital programmes can be read on any digital device, such as phones, iPads and tablets as well as desktop computers and laptops.