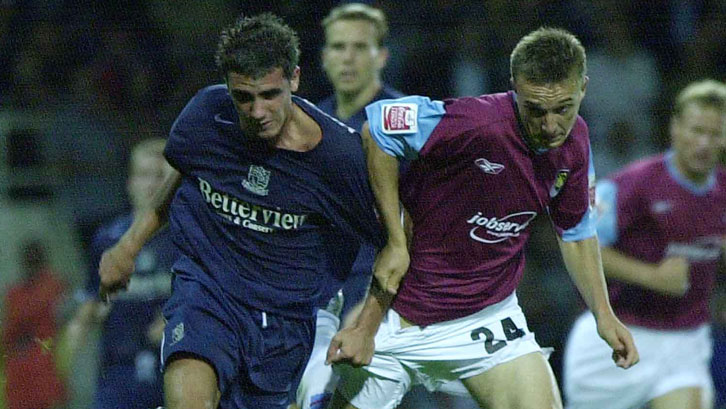 It is exactly 15 years since a fresh-faced Academy of Football graduate named Mark Noble made his first-team debut for West Ham United.
Then just 17 years and three months old, the midfielder from nearby Canning Town was included in Alan Pardew's squad for the EFL Cup second-round visit of Southend United to the Boleyn Ground on Tuesday 24 August 2004.
The Hammers, then in the Championship, led their League Two visitors through Marlon Harewood's first-half goal when Noble was introduced as a 68th-minute substitute for Luke Chadwick.
A day that had begun with the sale of one ball-playing central midfielder, Michael Carrick, to Tottenham Hotspur, ended with another pulling the strings.
A determined Southend could have ruined Noble's big night if they had taken one of a series of second-half chances, but the Irons stood firm and Harewood's late second ensured it would end in victory - and Noble running home to Canning Town along the Barking Road!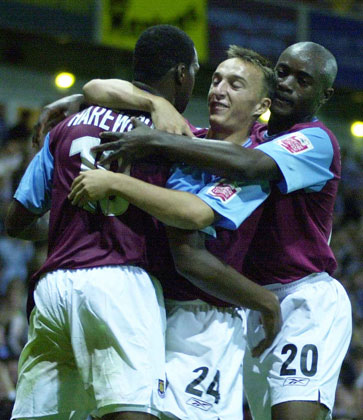 Reflecting on his debut, the captain said pulling on the Claret and Blue shirt for the first time made his childhood dream come true.
"Obviously when you grow up in the area you love playing on the street, and to go from playing on the street with my mates to playing at Upton Park is a bit surreal, and 15 years on to still be in the heart of the West Ham midfield is quite good going!" he recalled.
"At school, it was probably not the best thing to do, but I always wanted to be a footballer and that was it. Someone said to me: 'You can't always rely on football' and they were right, but I was convinced I was going to be a footballer – not in an arrogant way, but I just wanted it so badly.
"After 15 years of playing in the West Ham midfield, it becomes normal because it's your job, but if you'd said that when I started I'd never have believed you.
"I always wanted to be one of the best players in the world like Zinedine Zidane, so it was great that I ended up playing at West Ham against some of the best players in the world."
Fifteen years on, at the age of 32, Noble is determined to keep playing for his boyhood team for as long as possible.
"Does it seem 15 years ago? No, longer to be honest! If you had said to me when I was 14-years-old that I could play just one game in the Premier League, I would have taken it like a shot," he continued. "In fact, I've played 485 games, including a couple of loan spells early on, and I'm still hungry for many more.
"To accumulate almost 500 games in a decade and a half means I'm averaging more than 30 per season and I'm proud of that. Yes, I have been fortunate with injuries, but there are other factors — mentality and lifestyle, for example.
"Many top midfielders have been bought by the club during those years, yet my mentality has never changed. I've always thought, 'If fit, I'm playing every week — there's no way I am letting anyone else take this shirt'.
"I'm 32 now but I still get nervous before every training session and that's because I want to be the best player out there. I'll have that attitude until my final game as a player and I suppose it's a fear of failure which drives me on."
Noble is set to return to Manuel Pellegrini's squad and could make his 468th appearance for West Ham in Saturday's Premier League fixture at Watford, which you can follow live on whufc.com from 1pm.