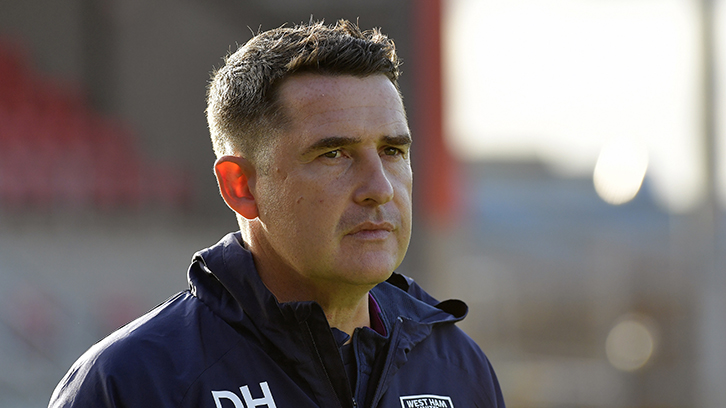 West Ham United U23 Lead Coach Dmitri Halajko was impressed by the pragmatism his side displayed in their 2-1 win at Newcastle U23 on Saturday.
Going into the game off the back of a comprehensive win in their opening Premier League 2 Division 2 fixture last weekend, Halajko's side were forced to battle more fervently for the three points this time around, going a goal behind before scoring twice before half-time - both goals stemming from strokes of fortune.
Speaking after the game, Halajko expressed his disappointment that his team weren't able to reach the same levels as in their first game, but also praised their ability to dig the result out under that pressure.
He said: "We're happy with the result. Our performance, we think, maybe lacked a bit of quality for what we would've liked. 
"[Compared with last week] we weren't as brave on the ball, we weren't as quick with our first pass to release it, and our quality to break lines and play through them wasn't as sharp today as we'd like to get it."
"But we're happy with the three points, and happy we managed to grind out a result."
A Joe Powell tap-in from a corner, as well a defensive mix-up in the Newcastle box leading to a comical own-goal, gave Halajko's side the lead, but they were forced to dig in during the second half as their hosts surged forwards in search of an equaliser.
"We showed other positive characteristics today: coming from 1-0 down, and holding out when they were throwing everything at us," Halajko continued.
"They played a deep block, which is hard to break down, so we did show resilience, we did show good character, and we did show that we can grind out a result if we need to."
Halajko also reserved words of praise for the character of his young squad who, after helping him enjoy an unbeaten pre-season and two wins out of two in the league this season, seem to be relishing playing under their new manager.
He said: "They all want to learn, they all want to develop, they all want to get better.
"I think whoever coached them, they would give them that, because they're a good bunch of young players that want to progress."
Next up for the U23 side is a trip to Griffin Park on Tuesday to face a Brentford 'B' side in a friendly, and Halajko is hoping the fixture will offer a different type of examination for his team.
He said: "Hopefully their team will be reasonably senior, and it'll be at their stadium – a proper senior stadium – which is always great to play at for the lads.
"With two games in a week as well, it's important our lads have the capability to play both on a Tuesday and a Saturday, or a Tuesday and a Sunday, week in, week out."
Entry to Brentford 'B' against West Ham United U23 on Tuesday 20 August is free for any supporters who wish to make the trip to West London.