Interviews
West Ham reunited: Paolo Di Canio and Trevor Sinclair return to east London
Paolo Di Canio and Trevor Sinclair will forever be linked by one of the most iconic moments in West Ham United history.
For it was Sinclair's inch-perfect cross which Di Canio volleyed into the Wimbledon net to score a goal that went down in Claret and Blue folklore in March 2000.
Nearly 20 years on, the Italian forward and former England midfielder were back in east London, commentating for Sky Italia and talkSPORT respectively on the Hammers' Premier League opener with Manchester City.
While that game did not turn out to their liking, the two West Ham legends were happier to reminisce about old times and look ahead positively to the 2019/20 season ahead.
"It's always good to meet each other, even in the media room, because the feeling remains exactly the same!" Di Canio smiled, before showing off the West Ham tie he wears every time he appears as a television pundit. "Obviously we don't wear our kit now, unfortunately, but it's good to come here to see so many people I had next to me for a few years. It's like family."
The heroes, who helped West Ham achieve a record-high fifth-place Premier League finish in 1998/99, were just two of a number of Harry Redknapp-era legends at the stadium on Saturday, as Joe Cole, Rio Ferdinand, Steve Lomas and John Moncur were also in attendance – much to Sinclair's delight.
In modern football you have to accept and understand every situation, and to play in front of 60,000 people – 60,000 West Ham supporters – is magic!

Paolo Di Canio
"I've seen a lot of the boys and a lot of the old squad are here, so it's great to come back," he confirmed.
But, while West Ham's past will always be important to players and fans alike, Di Canio insisted it is now time for the current squad to make their own mark on Hammers history.
"Now is the time for other players to give something special to these fantastic people," he said. "The first two years in this stadium were difficult, because Upton Park remains in our hearts, but in modern football you have to accept and understand every situation, and to play in front of 60,000 people – 60,000 West Ham supporters – is magic!
"So, the players who go on the field every time in this stadium are very lucky because they are playing in a West Ham shirt in front of 60,000 people, and they must be full of passion."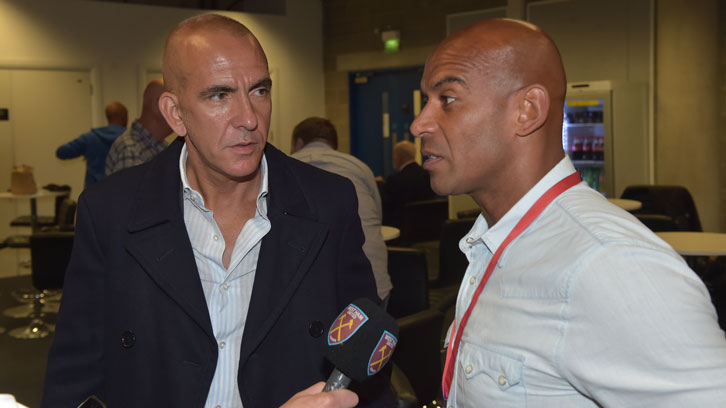 Those players are also full of the same sort of creative talent and flair that Di Canio and Sinclair possessed, and both are excited by the prospect of seeing Manuel Pellegrini's squad in action this season.
"It's Jack Wilshere I'm most excited about seeing," said Sinclair. "He's had a fantastic pre-season. I like the boy Fornals too, Haller has come in and Anderson was fantastic last season, let's not forget it, he played so well.
"This team is full of players who can create and work hard and I just hope they work as hard defensively as they do going forward and enjoy the defensive side of it, keeping clean sheets and working hard for the team.
"If they can do that and get the balance right, I think it will be a successful season."
Di Canio agreed with his old mate
"What can you say? With Felipe Anderson, Lanzini getting back, Yarmolenko who started very well and then he had an injury, then we have Rice growing up very well in the middle of the field," said the 51-year-old, who edged out Sinclair to be named Hammer of the Year at the end of that 1998/99 season.
"As Trevor said, we need to be very compact in the defensive area and then give those players a chance to play their football. With more consistency during the season, we can have a fantastic season because, after the top six, I think West Ham is the team with the best quality and talent.
"And when you have Pellegrini in his second year, he knows exactly the environment here and he is happy with the squad because he has said that he has got two players for each position.
"So, we have all the things to do well and I hope we can go back into Europe next year and qualify for the Europa League. That would be fantastic for all of us and for the fans."