West Ham United again proved that anyone and everyone is welcome at London Stadium by inviting Australia's Ashes stars to Saturday's Premier League fixture with Manchester City.
Captain Tim Paine was joined by fast bowlers James Pattinson and Peter Siddle, batsman Marcus Harris and all-rounder Mitchell Marsh at the home of the Hammers after they arrived in the capital for this week's second Test match with England at Lord's.
The five players, along with legendary former captain Steve Waugh, enjoyed Club London hospitality before taking their seats for the game and sharing their experience on social media.
Paine, who questioned the famous atmosphere at Edgbaston ahead of Australia's win over England in the first Test, was impressed with the noise generated by the fans at London Stadium.
We're wrapped to be here at the Olympic Stadium. There's been a lot of history here and now West Ham are starting their own

Tim Paine
"It's a brilliant venue and a bit more intimidating than Edgbaston, although they don't let too many away fans in, which I really like!" he half-joked. "But no, we're wrapped to be here at the Olympic Stadium. There's been a lot of history here and now West Ham are starting their own."
Siddle organised the Australians' visit through his Essex teammate and lifelong West Ham supporter Jamie Porter, and the seamer revealed he is well-versed in all things Claret and Blue.
"I've spent the last couple of seasons with Essex, where a few of the lads are Hammers fans, so luckily enough they could sort something out and we could get along and see the first game of the season against City, which wasn't a bad one to come to!" he smiled.
"I enjoy my time here. I've played a lot of county cricket over the years and the last couple of seasons at Essex.
"I do enjoy England. I love playing here as the crowds are always good fun and I have a bit of banter with them!"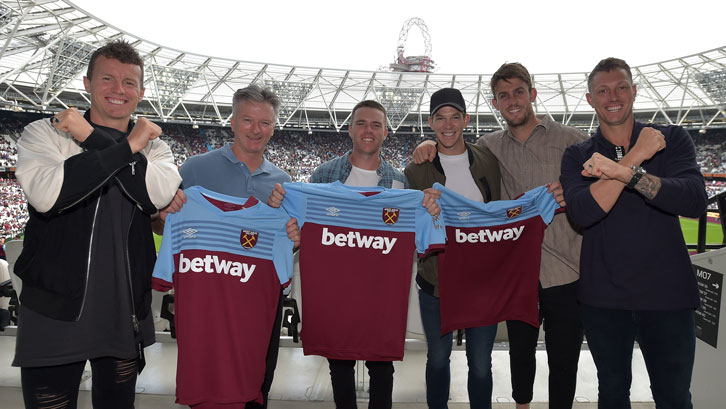 Most cricket teams now complete their morning warm-up with a kickaround on the outfield, so which Australian should Manuel Pellegrini take a closer look at?
"Probably myself!" Siddle smiled, to Paine's disgust. "My time at Essex has probably improved my skills over the last couple of years.
"It's always good fun and very enjoyable, but the Australian team wouldn't be too strong on the football field, that's for sure!"
The captain himself was honest enough to admit the Aussies would likely lose out to their English counterparts if they swapped the cricket ball for a football.
"I don't know who our best soccer player would be!" he said. "Us Aussies are traditionally not great, so it's probably the guys who have come over here and played a bit of county cricket, because they play every day in their warm-up.
"We're a pretty ordinary soccer team, to be honest!"