Signing for West Ham United represents a dream fulfilled for young Portuguese defender Goncalo Cardoso.
The 18-year-old has long harboured a desire to play in the Premier League, so his reaction to sealing his move to London Stadium from Boavista was naturally one of delight.
Cardoso has enjoyed a rapid rise to first team football in his homeland, debuting in the top flight before his 18th birthday, before helping Portugal to a runners-up finish at this summer's UEFA U19 Championships.
Now, as he prepares to take his talents to east London, the centre-back is ready for the challenges which await.
"Ever since I started playing football, England was always for me the best league," the Hammers' new No20 explained.
"Arriving here is a dream come true, and it has been my dream since my childhood. I never dreamed of the possibility of coming here at 18, but I'm ready and I'm here to help the team reach their goals."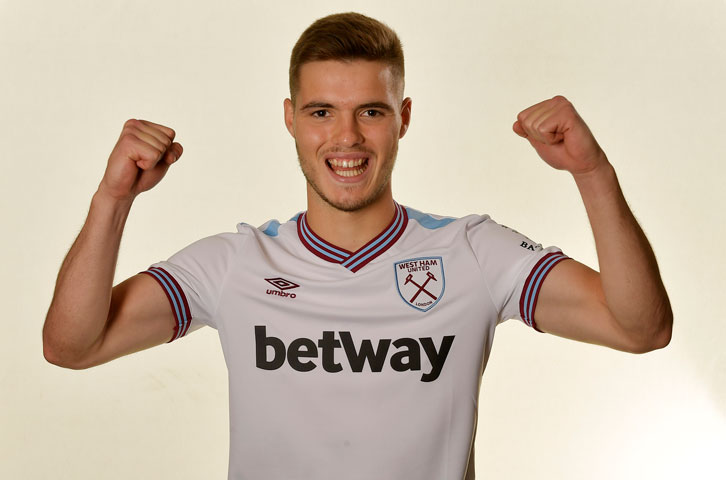 As a keen watcher of the Premier League, Cardoso is already up to speed with the Hammers' history and he cannot wait to work under the tutelage of Manuel Pellegrini.
He continued: "The first thing I know about West Ham is it's an historic club, a big club with big support, and traditional supporters. 
"I'm very excited to work under Manuel Pellegrini. I'm very young so I can learn a lot from him.
"London Stadium is amazing too. It's big, very big. When I see it full it will be even better, but it's amazing, incredible. It will be a great experience to walk out in front of 60,000 West Ham fans."
Arriving here is a dream come true, and it has been my dream since my childhood

Goncalo Cardoso
Cardoso explained that he likes to mix aggression with composure on the pitch, saying that as well as his ability at keeping goals out he is also keen to help get the team playing.
"I'm an aggressive player, a little bit different on the pitch pitch to off it. I'm calm [in possession], I like to have the ball and build the game from the back. I like to go to the area from corners too and try to score goals."
That goalscoring ability was evidenced with his country this summer, both in the Toulon Tournament, where he notched against England, in the UEFA U19 Championships, where he scored against Italy en route to a silver medal.
"It was a good experience in the tournaments," he confirmed. "Toulon was a great tournament against very good teams and the Euros of course was also a dream to play for the national team in official competition. Unfortunately we lost in the final but it was a very good tournament and we are proud of it."