New West Ham United women's signing Katharina Baunach cannot wait to step out in front of the team's supporters at Rush Green Stadium. 
Signed from VfL Wolfsburg on Thursday, Baunach became the fifth signing of the summer for the Hammers and is already excited for her first outing in the Claret and Blue. 
The defender had heard amazing things about the support at Rush Green Stadium and is looking forward to experiencing it for herself in the new campaign. 
We have some German players here, like Laura [Vetterlein] and Julia [Simic] and I've heard that the West Ham fans are really passionate

Katharina Baunach
"We have some German players here, like Laura [Vetterlein] and Julia [Simic] and I've heard that the fans here are really passionate," Baunach said. "I think you can see this all the time. It's the difference between the German league and the English league. The support is really great, and I can't wait to play in front of our fans. 
"It's really important to have that support because, when you're on the pitch and you have a good audience for a tough game, it pushes you to a higher level.  You maybe feel you're getting tired, but it helps you push up again. 
"I think it's really important and you see the English league has really good support from the fans. That's why I'm really excited to play in front of my new fans."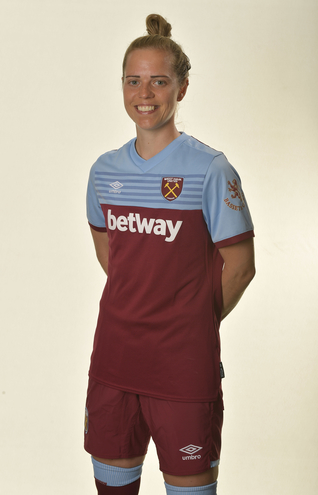 In head coach Matt Beard, Baunach is set to begin work with an experienced, Women's Super League-winning manager who is known globally for his tactical acumen. 
Baunach says that Beard's footballing philosophy was a large influence on her choosing West Ham and is looking forward to working with the head coach.
She continued: "I joined West Ham because I had a really good chat with Matt, and I like the way he wants us to play football. He's a really human guy and a brilliant coach. He's given me a good feeling over here and I've had a really warm welcome. 
"He knows my skills and the way I would like to play. He's seen a lot of my matches and he knows the way I like to play. I'm a technical player and I don't use a lot of touches. I like to get the ball and distribute the ball. 
"I like to play football in the right way. That's why I wanted to come here to play football and enjoy it and get a new experience."
With a new season just a matter of weeks away, Baunach is ready to help West Ham build on their first campaign as a professional outfit and assist the team in finishing higher up the Barclays WSL.
Baunach added: "I would like to rise with the team. We have really good potential and we saw that last year; the girls did a really good job. 
"It's thanks to Matt's work as well – he's so passionate and so professional, on and off the pitch. He gives us the right attitude and that's why I'm here. I love playing football and I Like the way we want to play. For me, it's really exciting."