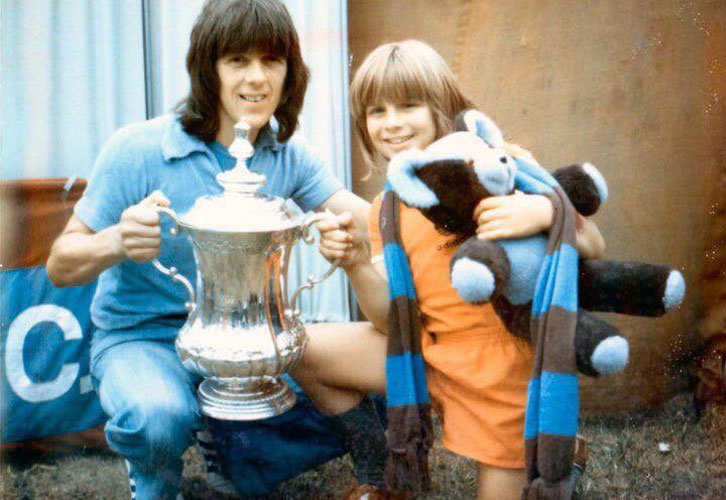 Mention the name Tony Rivers to most West Ham United supporters and you will more than likely be met with a blank face or a shake of the head.
But, if you have attended a home game at either the Boleyn Ground or London Stadium in recent decades, you will have heard his voice, and almost certainly sung along with him!
That is because Tony Rivers is the man who arranged and sang lead vocals on the hit version of 'I'm Forever Blowing Bubbles' performed by the 1975 FA Cup-winning players and played at every match for the past few decades.
Today, the 78-year-old is joined by dozens of family and friends on his first visit to London Stadium, where he hopes to lead a singalong of his now world-famous hit.
"It is going to be a thrill," said Tony, speaking from his home in Spain. "I have heard myself singing 'Bubbles' hundreds of times, whenever the Hammers are on television or when I have come back and been to Upton Park, but this will be the first time at London Stadium.
"Hopefully I can sing and all my fellow fans can join in. That would be special!"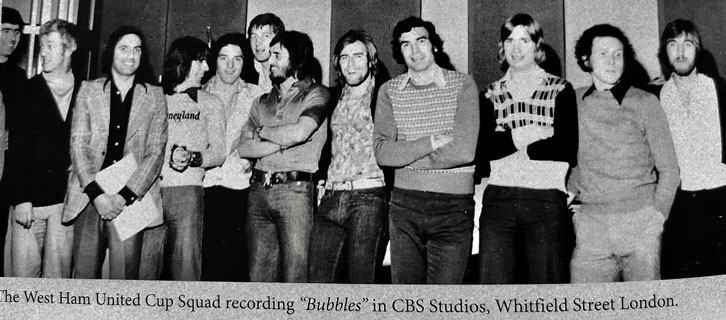 Born in County Durham during the Second World War, Rivers' family moved to East Ham when he was five, settling in Milton Avenue, a mile north west of the Boleyn Ground.
He quickly became a West Ham fan, attending every home game and befriending his heroes during their training matches played on the stadium forecourt.
"I would quite often tag along with one or two of the players as they walked home down Barking Road or sat with them at Cassettari's Café, players such as Frank O'Farrell, Johnny Dick and Vic Keeble. They were great days."
Alongside football, Rivers' other passion was music. He sang and played gigs in local pubs, working men's clubs and town halls before turning professional with a band called The Cutaways, who later changed their name to Harmony Grass and had a chart hit with 'Move In A Little Closer' in 1968.
Five years later, he sang the TV theme tune to the popular sitcom 'Whatever Happened To The Likely Lads'. 
With his own star on the rise, Rivers became close to a number of West Ham players, including the man whose goals fired the Irons to Wembley, striker Alan Taylor.
I wanted my version to be unforgettable and I think, all these years on, once you hear the first few bars, you know which song is about to start

Tony Rivers
"When they reached the final in 1975, I approached them to do a recording of 'Bubbles' to which they agreed," he recalled. "On 16 April the team and I as producer went to Pye Studios in Marble Arch to record it.
"I decided to come up with a funkier arrangement, reflective of the time and using a modern-sounding Moog synthesizer.
"I wanted my version to be unforgettable and I think, all these years on, once you hear the first few bars, you know which song is about to start!"
Rivers revealed how the players were initially shy around the microphone.
"Billy Bonds said the boys needed beer before they would start to sing, so someone was despatched to a nearby pub to grab a few crates, and they were fine after a few drinks!" he laughed.
"To be honest, you couldn't tell who could sing or who couldn't as they were huddled together in one big group, but the quality of their singing wasn't really important and I was happy with the end result!"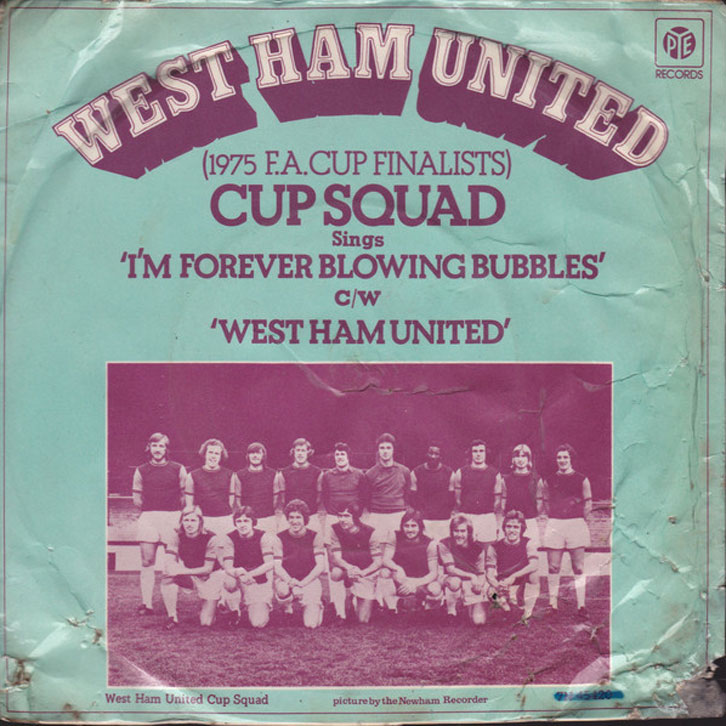 Two-and-a-half weeks later, on Saturday 3 May 1975, Taylor scored both goals as West Ham defeated Fulham 2-0 at Wembley to win the FA Cup.
The following day, Sunday 4 May, 'I'm Forever Blowing Bubbles', sung by the same group of players, entered the Official Singles Chart at No31!
"We made the charts and won the cup!" Rivers smiled. "Since then, the record has been played at every home game to welcome the players to the pitch, a tradition taken on from Upton Park to London Stadium."
The record remained in the charts for two weeks before dropping out of the Top 50, before being repressed in 1980 when the Hammers reached their fourth FA Cup final.
Rivers' own career continued to flourish too, as he arranged and sang harmonies on Cliff Richard's 1976 Top-20 hits 'Devil Woman' and 'Miss You Nights', before working as a session musician with the likes of Pink Floyd, INXS, AL Stewart, Shakin Stevens and Roger Daltrey.
He even sang backing vocals with Elton John and George Michael at Live Aid, the biggest-ever televised musical event, in 1985. (apparently 1.5 billion). 
It is West Ham and 'Bubbles', though, that remain his proudest achievement.
"When I emailed the Club about coming over to a game, I got a reply from David Sullivan within five minutes, which was amazing," he revealed.
"West Ham has meant so much to be over the years so to be welcomed so warmly brought tears to my eyes.
"I really cannot wait to get to London Stadium and sing 'Bubbles' with my fellow Hammers again!"
*Tony Rivers' autobiography 'I'm Nearly Famous – The Tales of a Likely Lad' is available to order now at www.tonyriversbook.com