The London Air Ambulance landed at West Ham United's Rush Green training ground this week to mark the charity's 30th anniversary.
Hammers Joint-Chairman David Gold, a helicopter pilot himself, was on hand to meet representatives of the charity, pilots and Hammers fan Matthew Nice, whose life was saved by the London Air Ambulance.
London Air Ambulance was founded in 1989 and is the charity that delivers an advanced trauma team to London's most seriously injured patients, serving the 10m people who live, work and travel in the capital daily.
Using a helicopter from 8am to sunset, and rapid response cars at night or in adverse weather situations, London's Air Ambulance brings the hospital to the patient when time is critical.
For Matthew, he will forever be grateful for the charity's work: "Back in 2002 I was badly injured - I was working in south London and I struck an 11,000 volt cable," he explained. 
"The electricity passed through my right hand, into my body and out of my right thigh, leaving me with damage to my hand, first, second and third degree burns and quite an horrific injury to my face and airway.
'Without public support, the London Air Ambulance would not be able to fly and if people hadn't done what they did to allow me to have the flight I probably wouldn't have made it through.
"I had to pinch myself as the helicopter came into Rush Green this week. As a fan for over 30 years, it's a privilege and true honour to be here."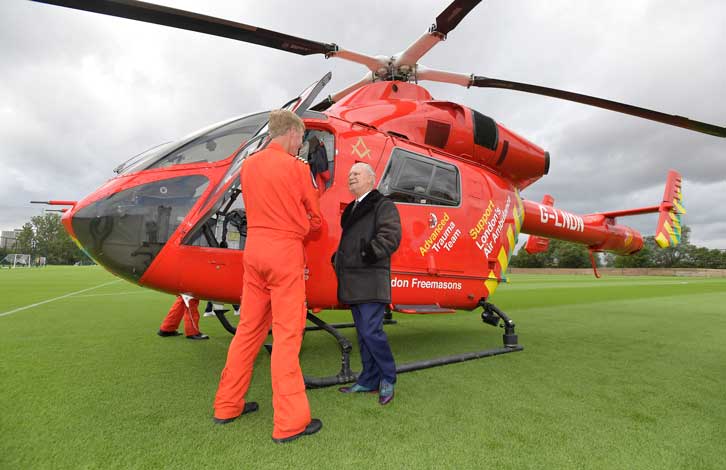 Joint-Chairman David Gold is thrilled for the club to be backing the cause. He added: "This is very close to my heart. I'm honoured that our Football Club is involved in supporting them - it's a great cause, it's privately funded and we're all part of that.
"I've been flying for as long as I can remember - first fixed wing and then onto helicopters and this is an amazing aircraft. The good that they do and achieve is amazing, and we're out there supporting them.
'West Ham United without the community isn't a Football Club - it's important that we reach out to the community and contribute. This is one of the outstanding things that we do and long may it last."
You can find out more about the London Air Ambulance and donate here.