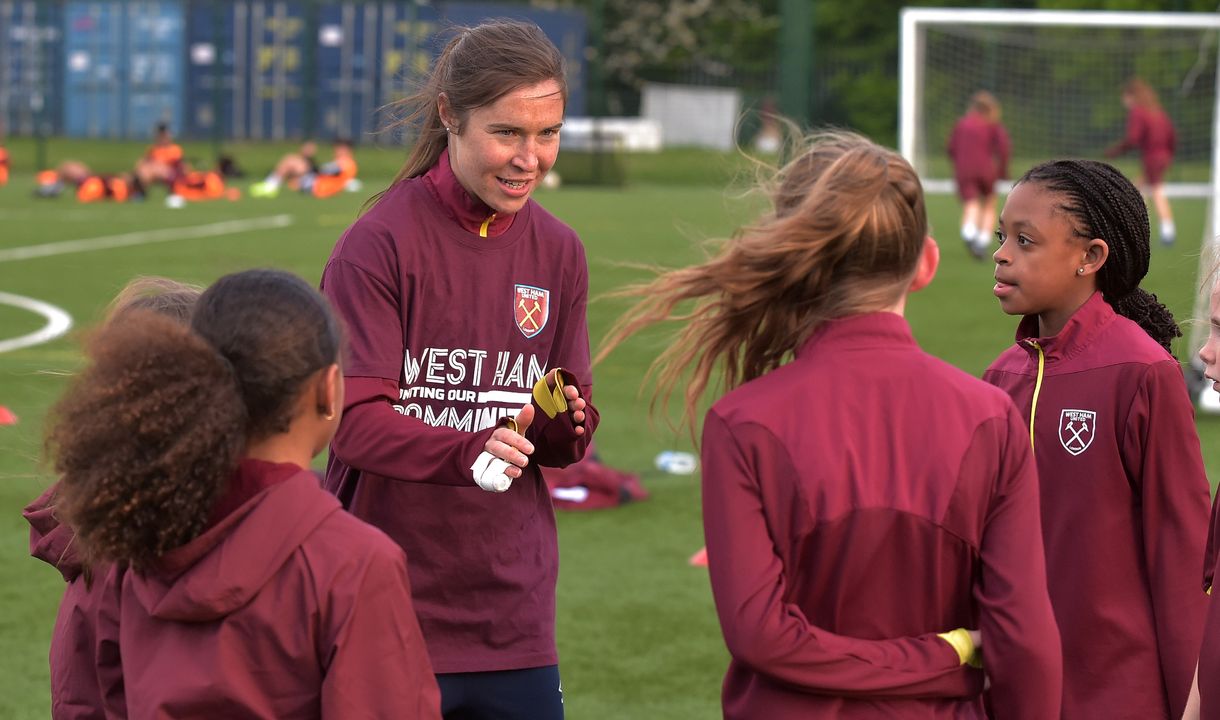 West Ham United have today announced a new, structured route for aspiring young women to go from grassroots football to the top of the game and into the West Ham United women's academy.
The women's Player Development Pathway replicates the hugely successful model which the West Ham United Foundation runs for the men's game, to progress young players into the Academy of Football at Chadwell Heath. During the Premier League era, this model has produced first team stars like Rio Ferdinand, Joe Cole, Michael Carrick, and more recently, England international Declan Rice.
Jack Sullivan, Managing Director of West Ham United women's team said: "This new pathway gives us the basis for developing girls footballers from grassroots levels and getting them into the first team. 
"As the sport grows, we need to offer a structured way for girls to develop their skills, and ensure that whatever their age or ability, they have the best chance to progress to their potential.
"With our first team competing in the WSL, ensuring the Academy of Football is producing the next generation of women's superstars is vitally important to the Club."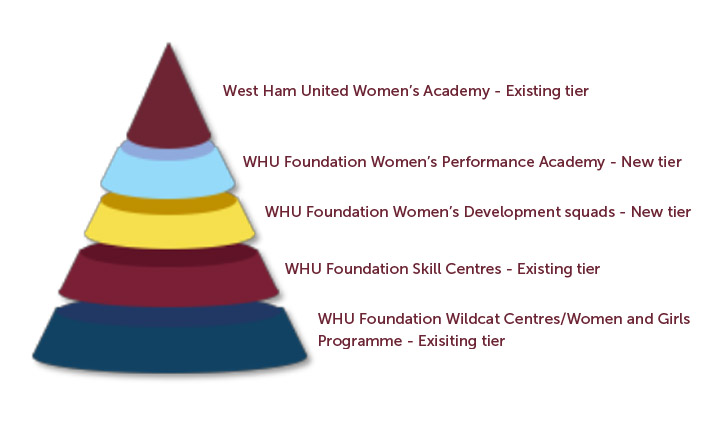 The Pathway includes two new steps to help provide more opportunities for girls and young women of all abilities.
West Ham United women's Youth Academy compromises of U10, U12, U14 and U16, with squads of up to 18 players per team. Approximately 400 girls tried out for the Youth Academy last year, and similar numbers are expected in 2019. 
Girls that are unsuccessful in that trial will now go into the Performance Academy or Development Squads, ensuring that West Ham United continues to monitor trialists progress as they get older and develop as footballers.
In addition, the full-time WSL Academy, which is one step away from the first team, offers players dual careers, in a programme balanced with football session. The Talented Athlete Scholarship Scheme (TASS) offers services such as strength and conditioning, lifestyle and physiotherapy. 
Two new tiers below this are being introduced, so that sporting excellence for females becomes part of the DNA of women's football at West Ham United.
Run by West Ham United Foundation, in conjunction with the women's first team management, women's Development Squads and a separate Performance Academy will now offer more intensive training at least once a week and bridge the gap between grassroots and academy football. At least 140 girls will be part of these teams.
The existing first step on the pathway encourages basic participation through the West Ham United Foundation's Wildcat centres and Premier League girls programme. Above this, the Foundation's Skills Centre runs soccer schools for both boys and girls to develop their footballing abilities.
Myles Smith, Head of West Ham United women's Youth Academy said: "The addition of two new steps into our restructured women's Player Development Pathway is an exciting move forward, both for West Ham United and aspiring women's players in our community. 
"West Ham's history of developing young male professionals through the Academy of Football is highly regarded across the globe, and it is enthusing to see those same high standards now applied to our young female players. 
"This restructure is the next step in building what I am sure will be successful route from grassroots football to the FA Women's Super League with West Ham for young girls from our local community and beyond."
West Ham United women's Youth Academy are holding trials on Sunday 2 June, and throughout May half-term, soccer school are being run for girls who want to get into football. For more information visit soccerschools.whufc.com.