West Ham United women's team took to the court at the Copper Box Arena last week to challenge the best that British tennis has to offer in a football-tennis crossover challenge to encourage local girls' participation in grassroots sport from a young age.
As a part of West Ham Women's week, Irons stars Brooke Hendrix, Tessel Middag, Brianna Visalli and Anna Moorhouse competed against GB tennis aces Johanna Konta, Katie Boulter, Heather Watson, Harriet Dart, Katie Swan and Anne Keothavong in a game of football-tennis alongside local youngsters.
Beyond the backdrop of the London Stadium, history surrounds these teams. West Ham United women's team arrived at this event fresh from booking their place in the SEE Women's FA Cup Final for the first time ever, and the GB Fed Cup team beat Kazakhstan for qualification into World Group II for the first time since 1993.
The inspirational visit formed part of West Ham United's Players' Project, which sees men's and women's players give their time and energy towards a range of projects, including increasing participation and sporting excellence in local communities.
Four girls from the local community, Lola Abara, L'Shanti Gordon, Faizah Rahman and Ami Lewis, attended to speak to the elite athletes, as participants in West Ham United Foundation programmes and members of the charity's Youth Forum. The aim of the Forum is to engage young people in the running and development of youth services delivered by the Foundation.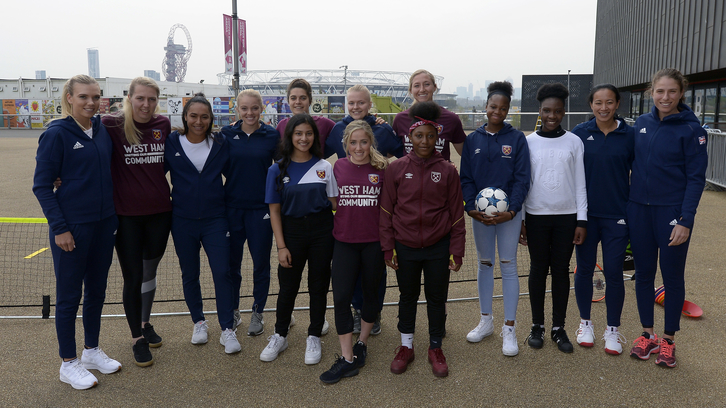 Forum member and Premier League Kicks participant, Ami Lewis, said of the visit: "It was exciting to meet both teams because you see how the two sports are different but also similar, for instance their lifestyles – they both have to train hard and be dedicated to their sports. 
"Visits like today make me want to continue to work hard. I consider them as role models and they give good advice, like things that you could do when you're older and that you should ensure you do sport that you enjoy. 
"I feel like sport gives you something to do, particularly with so much crime going on in the community. If you're involved in a regular sports group or sports team then you will have something positive to do and it will stop you getting involved in bad things. I think everyone in the community should get involved in sport."
East London is currently facing some of its most difficult times, with high rates of deprivation and crime, and the women used the afternoon activity to speak openly about their experiences and the role sport plays in inspiring better futures.
Brianna Visalli, West Ham United women's midfielder, commented: "Today, reaching out to those girls in the Foundation was just something special for me because I can remember being that age and having a professional football player like my coach at the time breathing these dreams into you and showing you that there is a way for it. It is definitely special to be in that situation now as a professional myself and being able to give back."
Hopefully we can not only inspire each other as high performance or elite athletes but also inspire the grassroots girls' teams.

Tessel Middag
Teammate Tessel Middag added: "It's been lovely meeting the British Fed Cup team. It's been very inspiring to see them in preparation for their important games, especially when we too will be playing an important game, the FA Cup Final, on 4th May at Wembley. 
"Hopefully we can not only inspire each other as high performance or elite athletes but also inspire the grassroots girls' teams, for example those from the West Ham United Foundation today; and we wish the GB women the best of luck for the future in World Group II." 
The young people were able to make the most of the teams taking time out from their training schedules, not only meeting and chatting with players but also taking part in a friendly game of football tennis. 
Britain's Fed Cup captain Anne Keothavong, who was raised in Hackney, said: "Coming from the local area, it means so much to me to be here with the GB team and uniting with West Ham to raise aspirations and encourage sports participation and healthy lifestyles in the community."