Kate Longhurst was disappointed with the defeat to Birmingham City on Sunday afternoon and admits that the Anna Moorhouse sending off changed the Irons approach to the second-half. 
However, the midfielder was delighted to make her 100th Women's Super League appearance.
Adriana Leon opened the scoring for West Ham United on 27 minutes when she volleyed the ball in from Longhurst's first-time cross.
Just before half-time the Irons were reduced to ten when Moorhouse was sent off for handling the ball outside the penalty area. Hayley Ladd stepped up for Birmingham and fired the resulting freekick into the top corner.
The Hammers pulled off some great defending in the second-half to keep the score level, but Birmingham took the lead on 75 minutes when Chloe Arthur tucked the ball away after a scramble inside the box.
We got a sending off quite early and then second-half it was backs to the wall. We just couldn't do it in the end.

Kate Longhurst
After the game, Longhurst said: "I thought we did alright in the first-half. We played some good stuff especially when we were 1-0 up, I think the confidence came in to us and we were playing some good football. 
"Unfortunately, we got a sending off quite early and then second-half it was backs to the wall and trying to protect what we had, and we just couldn't do it in the end.
"I think when you play teams like Birmingham you want to win, and I think they were there to be beaten today. I think we were on top at 1-0 and the sending off obviously changes the game, but we worked hard, the conditions aren't ideal for when you're down to 10 because it's so sunny and it was just so hot and it's heavy on the legs. 
"They're a team that we want to be trying to beat especially for next season they're teams that we should be looking to try and get points off of."
Longhurst admits the sending off was a game-changing moment as the Irons were looking the more dominant side.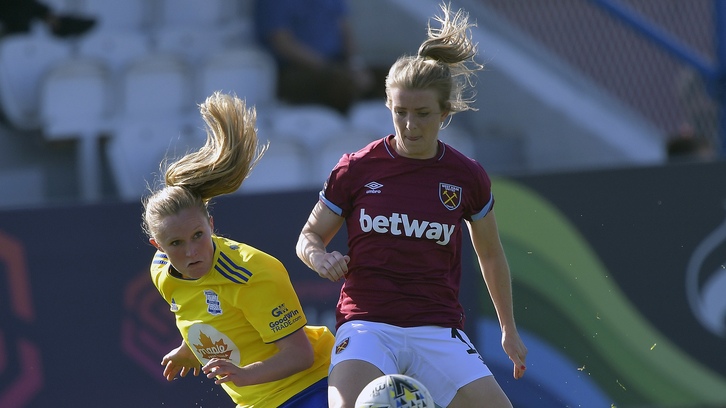 The midfielder added: "It obviously changes things because they scored directly from the freekick as well, so we go in at 1-1 when we were fairly comfortable. 
"I think they started the better in the first 15 minutes, but we were fairly comfortable 1-0 up and didn't look like conceding a shot against us. 
"It's one of those things. We move on and we've got another big game against Bristol City next week."
Today also marked Longhurst's 100th Women's Super League appearance and although she was delighted to reach a century, the day would've been topped off with a win.
She said: "It's good to get there. It's taken a while, but we don't get that many games in the season, so it takes a few years to get there. It's a nice position to get to, but it would have been topped off if we could have got the win."