Fabian Balbuena says West Ham United need to take the form they have shown in the last 135 minutes of Premier League football into Saturday's fixture with Leicester City.
The Hammers impressed in their second-half showing at Chelsea before producing one of their best displays of the season in Saturday's unfortunate 2-1 defeat at Manchester United.
Next on the agenda is the visit of the Foxes to London Stadium and the Paraguayan centre-back is hoping to turn another positive performance into a positive result against Brendan Rodgers' side.
I'll work hard this week to try to arrive at that game ready to play and to win at home in front of our fans

Fabian Balbuena
"We need to follow the way we have played in the second half at Chelsea and at Manchester United, with all the team running and trying to keep the ball to go forward and score goals," said the No4, who returned to the starting eleven after three months out injured at Stamford Bridge on 8 April.
"We know that sometimes it is hard because the other team plays as well but we have quality in our squad to play well like we did on Saturday, so we need to keep working, keep strong and try to win the next game.
"Hopefully I can score against Leicester again, like I did in the away game. I'll work hard this week to try to arrive at that game ready to play and to win at home in front of our fans. We know it'll be a hard match but we hope to win."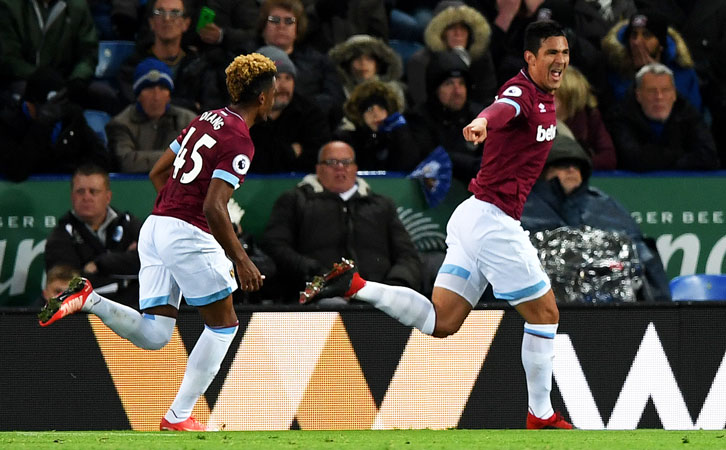 Reflecting on Saturday's narrow defeat at Old Trafford, Balbuena felt the Hammers' all-round showing merited more.
Manchester United scored from two penalties, the awarding of both of which saw debatable decisions go their way, while Felipe Anderson had a 'goal' wrongly ruled out for offside with the game still goalless.
The 27-year-old admitted to feeling frustrated, but says he and his teammates need to forget about that result and instead focus all their energies on beating Leicester.
"We played so well and I think we deserved more," he confirmed. "The second half was superb. The lads made good work, so it was unbelievable that we created so much and lost, but this is football and I'm a little bit frustrated about that.
"It was one of the best games we have played away from home this season and we deserved more, of course. That's the way we need to play every game away from home. We are in a good way, so we need to look forward and win the next game.
"It seems we were unlucky with two penalties and we had more possession and created more chances throughout the game, so I think we deserved more, but we know this is what happens in football. It will be better for all the teams with VAR.
"We need to score goals and try to make better of our chances and the only other thing we need to do is look forward, recover and work well during the week to be ready for the game next weekend."