West Ham Tv
Beard: This feeling is just unreal
Ticket sales for the SSE Women's FA Cup Final will be announced in due course, once confirmed with the Football Association.
Head coach Matt Beard could not contain his excitement after his Hammers side earned themselves a place in the SSE Women's FA Cup final at Wembley Stadium.
Reading initially took the lead in the game after Rachel Furness scored a header on 48 minutes, but nine minutes later Alisha Lehmann brought the game level.
The game finished 1-1 after 90 minutes and even after 30 minutes of extra-time the two sides could not be separated, meaning it would all come down to a penalty shootout. 
After both sides scored three and missed two each, it went to sudden death. Jade Moore stepped up for Reading and had her penalty saved by Anna Moorhouse before Cho So-hyun fired her penalty in to the top corner to spark scenes in the West Ham end.
We deserve so much credit, the players are unreal. They put their bodies on the line so I'm really really pleased.

Matt Beard
After the game Beard was full of praise for his Irons team. He said: "Unreal. I just think from my perspective that we knew it was going to be a tough game today. We've worked on it all week in training first second balls, long balls going in and their movement because they're very effective with it as well. 
"We've shown an immense amount of character today. Yes we had a little bit of luck, especially with the penalty in the second-half and Fara's chance at the end, but I felt the way we defended, the way we put our bodies on the line, we deserved to go through today.
"We deserve so much credit, the players are unreal. They put their bodies on the line so I'm really really pleased.
Beard was particularly pleased with the way his side was able to show their defensive side today and grind out the result.
Beard said: "I felt we had a good start to the second-half, we responded really well to the goal, but just the resilience of everyone, putting their bodies on the line, tracking back, recovery runs, just everything about the ugly side of the game that we did really well today. 
"Reading are a good team, statistically there's not much that separates us, but we've shown an enormous amount of character throughout the whole game today."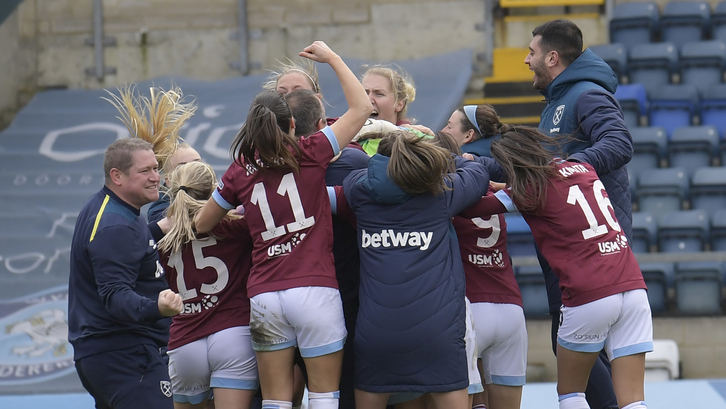 Going in to the penalty shootout the nerves could be felt around the stadium, but the head coach had nothing but confidence in his side and admits to practising them in training ahead of the game.
He said: "Obviously, we've practised them, and it becomes a lottery. I knew Gilly would score when we needed her to score because she's an unbelievable finisher and then Cho steps up/ Technically she's so gifted and even watching her walk up, she's got a smile on her face and I knew she'd put it in."
Now Beard cannot wait for the final at Wembley and is looking forward to the special occasion for the Irons.
"No matter what, we get we can look back with immense pride at what we've achieved so far this season, and this gives us the focus to kick on and finish our league campaign really strong and at the end we've got an FA Cup final. It's just unreal. I can't believe it."