London Stadium
London Stadium goes Claret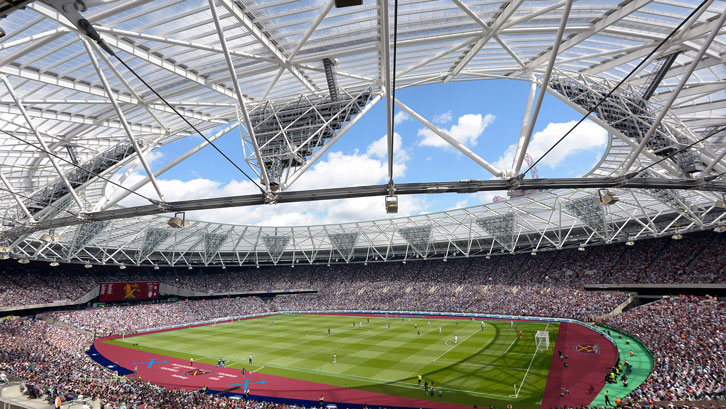 West Ham United is delighted to confirm that the brand-new Claret pitch surround at London Stadium will be installed this coming week.
The Club-branded design will be in place in time for our Premier League fixture against Leicester on Saturday 20 April, replacing the green track cover that has been in place since the stadium opened in the summer of 2016.
The Club has committed significant additional annual funding to enable this fantastic addition to our home in line with fan feedback and to improve our supporters' matchday experience.
West Ham United Vice-Chairman Karren Brady said: "This is wonderful and long-awaited news for the football club and our supporters. In the aftermath of the expert determination myself and the Board worked extremely hard to progress this because we knew how important it was to our fans.
"London Stadium is globally recognised as the home of West Ham United, and therefore it is only right that our traditional Club colours are in prominent and key areas of the playing arena. I would like to place on record my thanks to E20 and the LLDC for understanding the importance of ensuring that the London Stadium has the complete look and feel of West Ham United.
"With 60,000 supporters in attendance at every Premier League fixture, a third stand named in honour of one of our greatest ever players, Billy Bonds, together with the new pitch surround, we have a stadium that truly has the look and feel of West Ham United."
Club captain Mark Noble added: "On behalf of all the players, I am delighted that the new Claret pitch surround will be in place very soon.
"London Stadium has certainly begun to feel more and more like home this season now that we are fully established, and this news will only enhance that feeling for both the players and our supporters, that this is the home of West Ham United."
Lyn Garner, Chief Executive of the London Legacy Development Corporation, said: "We are really pleased to be partnering with West Ham United on a number of initiatives in the Stadium. The London Stadium team has worked with West Ham to get a fantastic surround for the pitch and we look forward to revealing it to the fans."