Manuel Pellegrini is sure he will see a reaction from his team when they travel to Chelsea this Monday.
The Hammers fell to a 2-0 defeat against Everton last time out, but Pellegrini believes they will give a much better showing at Stamford Bridge – helped by the return of three players from injury.
He spoke about that and more in his pre-match press conference on Friday…
Bouncing back at Chelsea
Of course I was not happy after Everton and I don't want to give excuses when we lost a game.
I said it was the worst game of the season because we didn't create chances. They scored two goals and created three or four more clear chances. When you play so bad in both boxes of course it's a bad game.
After that you must understand that we played with eight players out injured. It's too much of a disadvantage for our squad to play without Nasri, without Wilshere, without Yarmolenko, without Felipe Anderson. The playmakers, and of course any squad or any team would feel missing those players.
For this game Felipe Anderson is ok. He couldn't play the last game, and also Samir Nasri has worked today with the squad.
Ryan Fredericks was injured for the last game too and he couldn't play, but he's ok too so we have some news [on those three players].
I need to see players that are not afraid to play against Chelsea away. After that we need to play against Manchester United and we must try to go there and not just defend a result, but try to play and after that we'll see which team plays better.
Marko Arnautovic will get back to top form…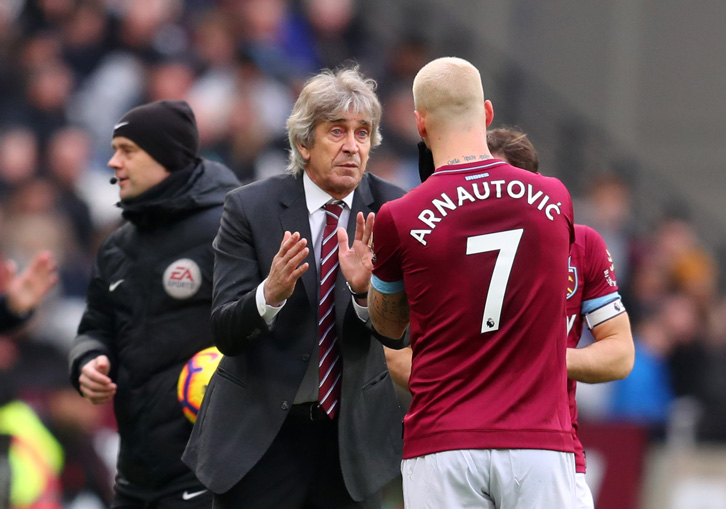 This happens with some players. In a moment of the season, they are not in their best form and maybe they need the support more than to punish them. 
So I was talking with Marko, he wants to do things better he is absolutely on board with our team. What happened in January about China is finished, it's over. So I think if anyone is thinking Marko doesn't want to be here or doesn't want to play for West Ham, they are wrong.
Marko is absolutely on board, mentally and physically. I repeat he is not in a good moment, but supporting him he will return to what he was demonstrating some months ago.
Finishing the season strongly
I repeat that we will try to finish this season as high as we can in the table. We are trying to involve all the players in that mentality. 
Our mentality must always be to desire more. That is what we are trying to do in the last six games.
With so many injured players we had the complete season - and long injuries - I I think it's not a bad season, but we must try to improve it still.
The important thing is the team plays a good game on Monday and we will go to Stamford Bridge to try and win this game. That's what I want to see from this team.