Quickly Kevin… podcaster and West Ham TV presenter Chris Scull casts his mind back into cult Claret and Blue history…
It is worth remembering that we live in a time when West Brom's mascot is 'Boiler Man'. He looks like this: a combi boiler, with two human legs hanging out under it. Then there's Southend's mascot: a man in a giant shrimp outfit.
Thankfully, we no longer live in the time when West Ham's matchday mascots are a three-way cacophony of awfulness; I'm referring of course to 'Herbie the Hammer' (whose eyes were constantly locked to the sky, giving off an air of unrelenting surprise), the bizarre and out-of-place Newham Recorder dog 'Scoopy' and the, to be fair, comparatively much-loved 'Bubbles the Bear'. 
Bubbles kept his gig, but the rest have long since been piled onto the mascot scrapheap. What became of them? Well,
I understand that weeks after Upton Park had seen its final game, Russell Brand wandered into the dressing room area, opened a cupboard and found within it the mortal remains of Herbie the Hammer. I'd like to think he was still in that cupboard as the demolition began.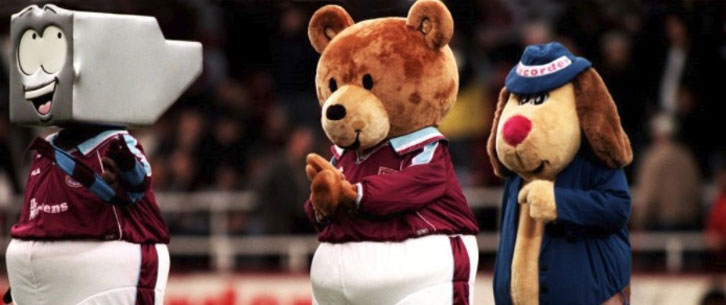 After the reign of Herbie and (Boiler Man's main rival for worst mascot ever created) 'Scoopy' the Newham Recorder dog, Hammerhead made a refreshing change to the cast of home game characters. So, here's an ode to our beloved mascot, a big welcome to my cult collection, the man with a hammer for a head; Hammerhead.
Now, whilst the more cynical readers of this column will no doubt assume Hammerhead was the expensive creation of some back street marketing and branding agency, I can in fact reveal that Hammerhead was 'foundered in the Thames Iron Works many decades ago, the workers who crafted a new champion drew on the spirits of heroes old and new to create the ultimate goal machine' (according to Hammerhead's 2011 press release on the official club website).
The announcement continues: "When a bolt of lightning hit the Iron Works, a mighty warrior of iron was born – Hammerhead."
"As strong as iron, as fast as Billy Bonds and blessed with the goalscoring prowess of Vic Watson, some say Hammerhead was once a shipbuilder at the Thames Iron Works, while others say he is a knight from the historic Boleyn Castle."
I can only imagine the sense of utter bewilderment as those grizzled shipbuilders of the late 19th century looked on to see the angled hammered head of Hammerhead emerge, break-dancing, from the welding smoke of the Thames Ironworks. Whatever the backstory, Hammerhead has robot-danced and knee-slid his way into our hearts.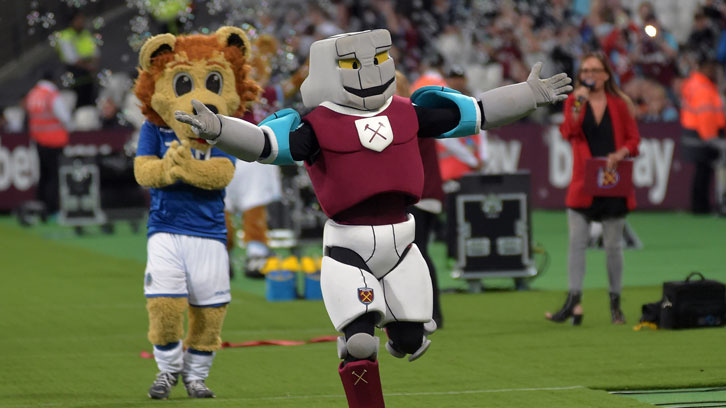 In recent times, Hammerhead has demonstrated the more competitive side to his nature; in challenging opposing mascots, in the cups, to a race at half time. I was fortunate enough to have adjudicated one such race in the third round of the FA Cup against Birmingham's mascot Beau Brummie.
As anyone who witnessed that dazzling display of sporting competition will no doubt attest, the tension beforehand was palpable. In spite of being mute, I could sense in the manner Hammerhead stretched his quads, pre-race, that he was nervous. And he had every right to be. Because Hammerhead finished runner-up in that race; and therefore squarely landed the suggestion that Birmingham's dog mascot Beau Brummie was faster than Billy Bonds. What's worse, it took several minutes for Hammerhead's panting to subside amid the ignominy of defeat, raising serious questions about his ability to compete over longer distances. 
Since then, Hammerhead has become much more of a force on twitter (follow him via @Hammerhead) and has even made an appearance on BBC's One Show. But the main thing HH has going for him, above all the remarkable achievements he has notched up in his time with us over the past 100-odd years, is that he's a substantial upgrade on the Newham Recorder's horrific, awful, ghastly, odious, non-sensical mascot Scoopy. Viva Hammerhead!