Veggie Run is the first Council-created app in England, aimed at educating children about dodging unhealthy foods, and rewarding them and their schools with sporty prizes. Veggie Run has now created a first of its kind partnership with the West Ham United Foundation in order to deliver the Healthy Hammers programme to 2,400 children, at over half of Havering Council's primary and junior schools throughout 2018/19 academic year.
 
To commence this partnership, 30 lucky primary schools were selected at random by Andrew Black-Herbert, the Chief Executive of Havering Council, and Ross Williams from the West Ham United Foundation.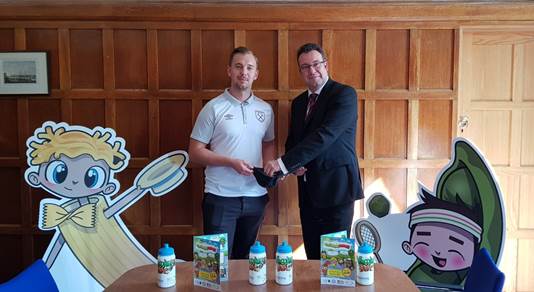 Cllr Robert Benham, Cabinet Member for Children's Services, Learning and Education, said: "The partnership between Veggie Run and the West Ham United Foundation is a first of its kind for a council in England. Through Veggie Run we aim to educate children about healthy living through digital game play, and directly reward them and schools with sporty prizes.  
"Veggie Run links with our school catered meals offer, as we are passionate about providing children with a healthy school meal in Havering. As the study conducted by The School Food Plan identified only one percent of packed lunches met the government's criteria on nutritional lunches."    
Ross Williams, Senior Schools Development Officer at West Ham United Foundation, said: "This partnership will enable the West Ham United Foundation coaches to deliver health and nutrition based activities to over half of the London Borough of Havering's primary schools by the end of the 2018/19 academic year.  
Delivering a  programme to such a wide audience helps to children engage with Healthy Living, especially if they are supported at home via the Veggie Run app."
To officially launch this exciting partnership, The West Ham United will host ten lucky primary or junior school pupils at London Stadium on 7 November. For children to win a place at the stadium, they only need to eat a school catered lunch from 21 September – 19 October to be included in a prize draw. Winners will also receive a free West Ham home kit printed with a Veggie Run character, shin pads, a full stadium tour, and a fixture dependent  opportunity to meet a first team player.  
 
Other competitions on offer during the academic year include prizes from West Ham United Football Club, Stubbers Outdoor Adventurer Centre, Everyone Active, Change4Life and sQuid. The top ten pupils on the Veggie Run Leader by 19 October will each win a £25 WHU Foundation extra curriculum programme voucher.
Further details can be found at www.haveringcatering.co.uk