Robert Snodgrass felt his hard work had paid off as he netted his first two goals for West Ham United in Wednesday's 8-0 Carabao Cup third-round win over Macclesfield Town.
The Scotland star bagged a goal in each half as the Hammers ran riot against their EFL League Two opponents to book their place in the last 16.
And Snodgrass, who has made an impressive start under Manuel Pellegrini after a difficult first 18 months in Claret and Blue, said his patience had been rewarded.
An 8-0 win will give everyone confidence and it was important because we gave a good account of ourselves at home

Robert Snodgrass
"That's absolutely brilliant, as I've waited a long time for that feeling," he said. "I scored goals in pre-season and that was a good feeling, so to score goals for this great football club means a lot to me.
"It was about the result and trying to get into the next round and to show the West Ham fans a bit of the young talent coming through, and I thought they were outstanding, the boys who started [including two-goal debutant Grady Diangana] and you saw the younger boys come on as well with Conor [Coventry] and [Joe] Powelly.
"I'm delighted for them and the scoreline showed the ruthlessness we need. That's what the manager spoke about, that we needed to be clinical in front of goal and take our chances, and that's what we did."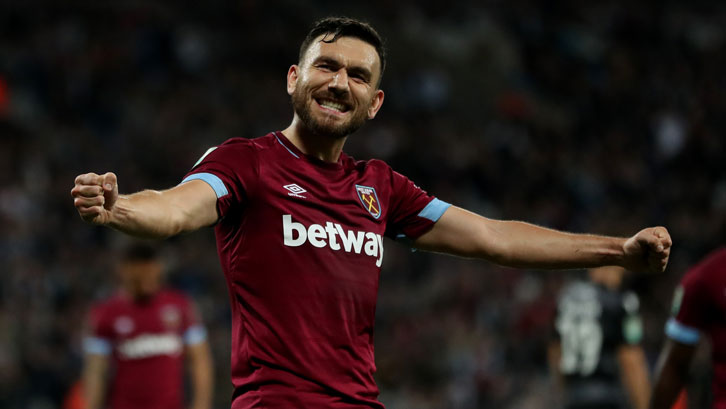 While some players may have shied away after such a challenging start to their West Ham career, Snodgrass went away and enjoyed a superb season on loan at Aston Villa before returning to the club refreshed and ready to impress both Pellegrini and the West Ham supporters who stuck by him.
"No disrespect, but I've done it everywhere I've been. I've scored over 100 goals in my career, so I don't need to say I can do this and do that," the No11 continued. "I let my football do the talking.
"It was a very hard first year for me, but I feel as if this year different as I've played and done well in stages. I'm not just here to take part, I want to play, and that's why I signed a contract.
"I want to play football. I had a bad injury a few years back when I missed 16 months, so I just want to play. I've got a connection with the West Ham fans because they were always there for me, showing me support and that sort of stuff and now they're wishing me well again.
"That's the sort of fans they are and I want to try and repay them sticking by me and showing me that support. In pre-season I worked hard and tried to push myself into the manager's plans and that's all I'm trying to do, really."
Next up for the Hammers is the visit of Manchester United in the Premier League on Saturday and Snodgrass says the Hammers need to take the same clinical approach when they take on the Red Devils at London Stadium.
"We take each game as it comes," he explained. "It was a good performance and result up at Everton and a solid performance against Chelsea and we had some chances and this game, no disrespect to Macclesfield who are bottom of league two, was a case of us respecting our opponents, who had some threats and a big man up top.
"Adrian made a save and that was it really and we are where we are. We created our chances and when they came we were ruthless.
"An 8-0 win will give everyone confidence and it was important because we gave a good account of ourselves at home. To get the result and get to the next round was what it was all about."