Rush Green was packed with the area's best up-and-coming coaches on Monday evening as first team manager Manuel Pellegrini made an appearance at the Academy of Football's second Official Coaching Association event of the campaign.
The Chilean – who has more than 20 years experience in top-flight football management – was full of insightful information for the developing coaches in the room, who were able to take home the very best hints and tips from the Premier League winner.
The evening, introduced by Academy Director and Official Coaching Association lead Terry Westley, was held at the Club's first team training base, in and around where Premier League matches are prepared for every day.
And having talked through Pellegrini's long and established football management career to begin with, Westley welcomed the boss to the stage for a Q&A about his coaching life.
The 65-year-old's fascinating knowledge gave the local fraternity of coaches an understanding of the importance of education in the football management world, given the Chilean's engineering degree, among other useful chunks of information, from dealing with a multitude of different personalities and characters to preparing for a season in one of the world's top football leagues.
After Westley himself had led the discussion, coaches had the chance to ask Pellegrini their own questions, ranging across all manner of things management-related.
As the evening progressed, the coaches then headed outside to the main Rush Green Stadium pitch to watch a full training session, with Pellegrini's backroom staff – including assistant coaches Ruben Cousillas and Enzo Maresca and goalkeeper coach Xavi Valero – leading the exercises.
The Coaching Association members were able to take practical tips from the session, which was undertaken with a mix of the club's U16 and U18 squads.
To round off, the group were debriefed back inside the Rush Green building before the evening was concluded.
The Official Coaching Association's third session of six for the 2018/19 is set to be held on the evening of Monday 12 November, prior to the Academy's International Premier League Cup fixture against GNK Dinamo Zagreb the following night.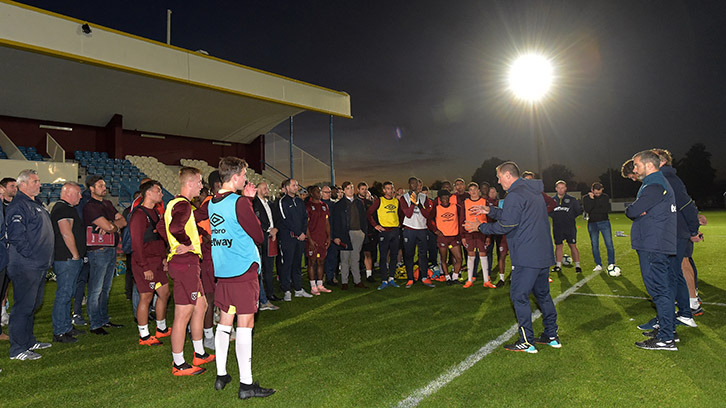 Coaches who sign up to the event will also receive a free ticket to the U23 clash, with the Coaching Association event to be geared around preparing for a match.
More details about how to book onto the event will be released in due course.