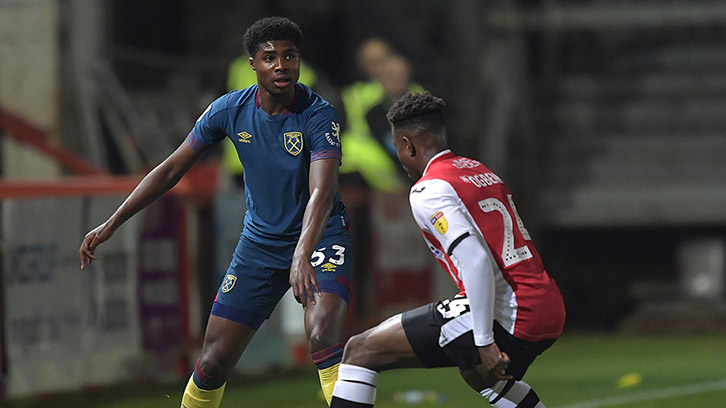 Defender Ben Johnson admitted West Ham United's U21s paid for their mistakes in Wednesday night's 2-0 Checkatrade Trophy defeat to Exeter City.
The Hammers were punished by two Jonathan Forte goals after restarting slowly following a half an hour break due to a floodlight issue during the first half at St. James Park.
During the second half, the Hammers had their chances to reduce the deficit but couldn't find a way to find the back of the net and as a result, the side remain on zero points in their Southern Group D.
After the game, a disappointed Johnson – playing on the right side of a five-man defence for the Hammers – gave his verdict on the performance.
"We started off OK, but the break we had is not really excuse," he concluded. "The goals came just after and we have to be concentrating better. The team Exeter put out were nothing special, but we just spoke about what we were going to do but we didn't react well and we paid for it.
We just spoke about what we were going to do [after the break] but we didn't react well and we paid for it

Ben Johhnson
"For us, we went into the dressing room and said 'we need to switch on', and we didn't do that. It's very frustrating but we just have to make sure that we learn from this experience. It's good competition to do that from, playing League One and Two sides.
"We could have been braver on the ball going forward and we had a few good chances and it could have been a different story. Sometimes it goes your way and you score early against the run of play, but other times it doesn't come for you.
"I think this group is the group that went away together to Slovakia in pre-season and we train with each other often, so I don't think there's any issue there. When there are injuries, there are opportunities for others too.
"I'm getting used to learning the position of being comfortable in a five, as I feel like I'm comfortable at right-back in a four. It's good for my career to learn that role, and there is of course room for improvement. 
"I think the team can play a four but adapt to a five and it's something we'll look at our clips, look at our positioning and learn from."