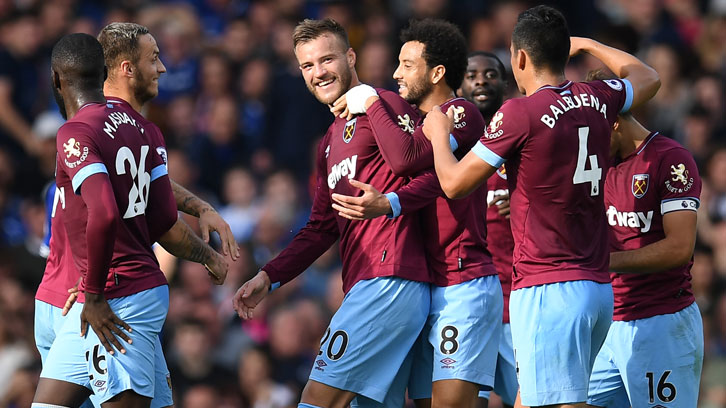 Andriy Yarmolenko is targeting back-to-back Premier League victories as West Ham United prepare to face Chelsea at London Stadium on Sunday.
The Ukraine star bagged his first two goals in Claret and Blue as the Hammers won 3-1 at Everton last weekend.
Now, the former Dynamo Kyiv forward is hoping to follow that impressive first start for the club by helping Manuel Pellegrini's team upset the unbeaten Blues.
We must play our game and we must show our fans that we want to work for them

Andriy Yarmolenko
"Of course I am very, very happy to have scored those goals because it was an important moment in my life to score these goals in England and get us the three points," he began.
"It was very nice to win last week and everyone has a smile on their face, which wasn't the case before. We have to actually forget that game now as, while it is always good to remember something good, we have to think about the next game now.
"We just need to keep improving now and listen to our coach because we worked as one team when we played at Everton and it was very successful. I think we're going in the right direction and we just need to work even harder to bring West Ham up the table.
"Of course Chelsea is a good team with some beautiful players but we are not scared of them. We are playing in our stadium, so we must play our game and we must show our fans that we want to work for them."
Chelsea and, in particular, Belgium forward Eden Hazard have had a fantastic start to the season, but Yarmolenko says West Ham cannot and will not be afraid to take the game to them under Pellegrini.
"Eden Hazard is one of the best players in the Premier League and it will be hard to stop him, but we will try!" he smiled.
"Of course, winning five out of five is a good start for them and they also have a new coach [Maurizio Sarri] and a new style of play. Sarri is a very good coach and he has an attacking philosophy based on short passing.
"It will very hard to play against such tactics but, if we show our game and everyone goes to the pitch believing we can beat them, then we are capable of doing so."
Yarmolenko himself was held out of the starting XI in West Ham's opening four matches, all of which ended in defeat, as he got to grips with the demands of English football but he is now ready to contribute for Pellegrini, the club and its loyal supporters on a regular basis.
"The start of the season was not the best. I can even say it was quite poor because we didn't get any points, but we have all worked very hard to change the situation and it was quite obvious that everybody was together when we won the game against Everton. We really, really wanted to win that game.
"From the first day here, I felt I was part of a big family. It's a friendly club and everybody is friendly and jokes with you and I feel at home here."