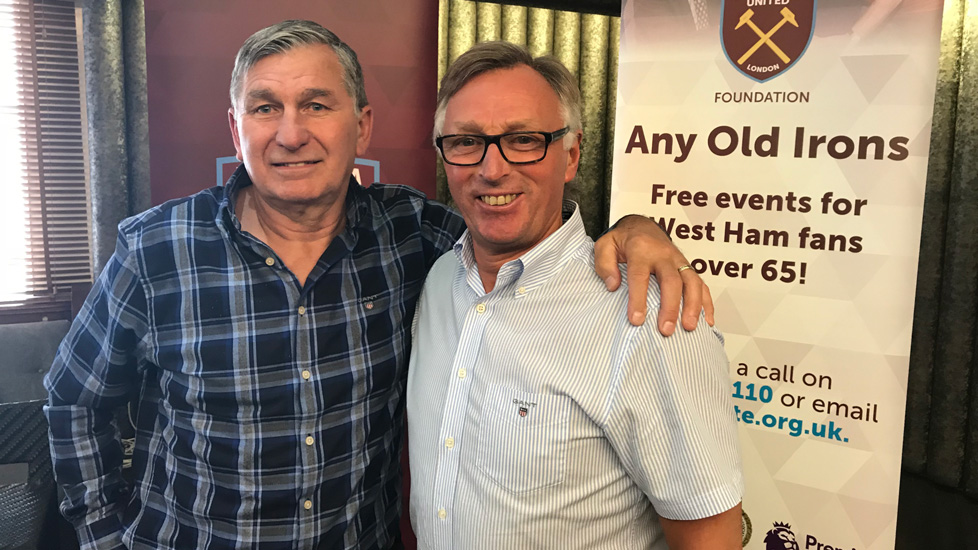 Two Hammers stars of the 1970s were back among familiar company this week, as special guests at the latest meeting of the hugely successful Any Old Irons – the West Ham United Foundation programme making a genuinely positive difference to over-65s in the east London community.
Alan Taylor – two-goal hero of our 1975 FA Cup final victory over Fulham – and Keith Robson, scorer of one of the most memorable goals in Upton Park history in the 1976 European Cup Winners' Cup semi-final against Eintracht Frankfurt, visited the East Ham Working Men's Club in the shadow of the former Boleyn Ground, to see at first hand the benefits of the initiative, organised by the Foundation in conjunction with the Friends of the Elderly charity.
The pair spent nearly three hours chatting with guests and reflecting on memories from their playing days, as well as listening to the supporters' own stories from their many years of following the Hammers.
"It has been absolutely fantastic," said Keith. "To have a programme like this for the older generation of supporters is wonderful, and the people organising it deserve a lot of credit.
"I'd like to see more of this in the game – it is something that makes a real difference in the lives of these people, and I'm delighted that West Ham are leading the way with it."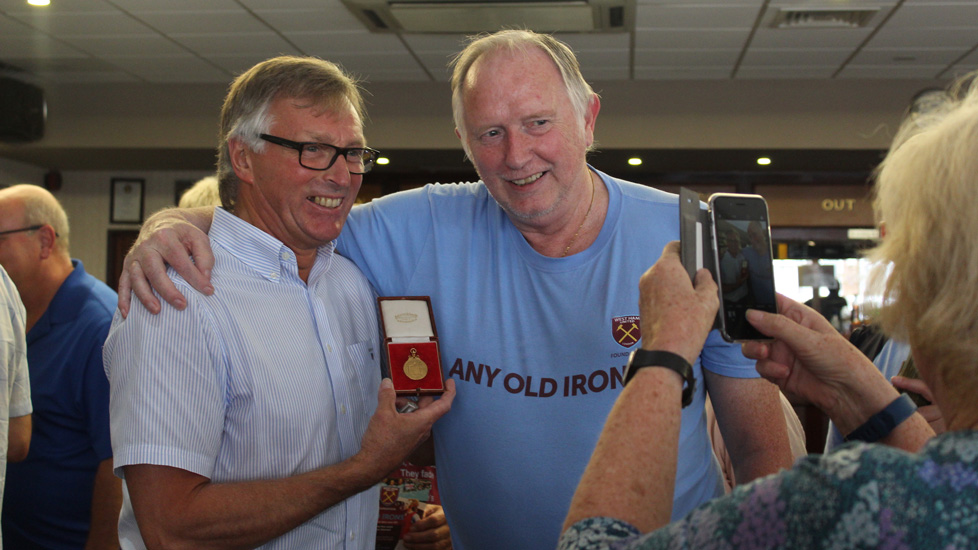 Alan, who surprised guests by bringing along his treasured winners' medal from the 1975 triumph at Wembley, added: "I've really enjoyed being here today. These guys obviously have many great memories of following the club down the years and it's great for them to get together in an environment like this and share their stories.
"Their knowledge is amazing – they remembered things that Keith and I had forgotten! – and it is clear to see that their love for the club is still so strong."
After a lively question and answer session, Alan and Keith, who both turn 65 within a day of each other later this year, were presented with Any Old Irons honorary members' badges, and then spent time signing autographs and posing for photos with guests.
It rounded off the latest successful event for the programme, which has gone from strength to strength since its inception more than two years ago, making a genuinely positive difference in the lives of those involved and helping to combat loneliness – still one of the biggest issues facing older people in London.
Lifelong fan Steve Maynard, 69, is a founding member of the group and admits that it has become a huge part of his life. 
"On a personal level I love it," said Steve. "I have made so many acquaintances and friends since I have been doing it.
"I am a big West Ham fan like everyone else here, and that connection brings us all closer together. It gives us a shared interest that encourages people to get involved, but it actually means far more than that. It has helped to create so many lovely friendships that would never have happened otherwise."
To find out more about signing up for the Any Old Irons programme, contact the Friends of the Elderly charity on 0330 332 1110.