Manuel Lanzini has returned to Rush Green with a smile on his face as he works his way towards making his West Ham United comeback.
The Argentina star has spent the last three months working on his rehabilitation in Barcelona, where he underwent surgery in June after suffering a knee injury while preparing for the 2018 FIFA World Cup finals.
The 25-year-old was back at the Hammers' training ground this week, where he will step up his work under the guidance of the club's head of medical Richard Collinge and his staff.
I want to be on the pitch as quickly as possible, but I also know that the injury was bad so I need to stay calm and take things day by day

Manuel Lanzini
"I missed West Ham, I missed the players, all the West Ham staff and the training ground, so I'm happy to be back," Lanzini told whufc.com. "Now, I am feeling good. It was very hard when my knee was broken before the World Cup but now I am thinking of the future and now I am happy."
"[My surgeon] Ramon Cugat was very good for me. The surgery was good and everything really was very good.
"My knee is feeling very comfortable and stable and this is very important. I am taking things day by day and I am feeling good, comfortable and stable and I am ready to keep going like this and we will see.
"Now, I am working on the bike with the Bosu [balance trainer] and am doing activation and work on my quadriceps and hamstring, all in the gym."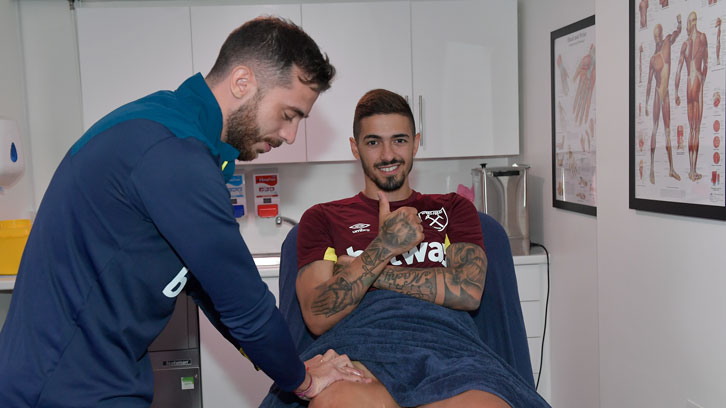 While his rehabilitation will be confined to the treatment room and gymnasium for now, Lanzini admitted he is constantly thinking about his return to the pitch.
"I think about this every day. I want to be on the pitch as quickly as possible, but I also know that the injury was bad so I need to stay calm and take things day by day. We will see what happens in the future."
While he has been out of the country for the last three months, Lanzini has kept in close contact with the club, speaking to manager Manuel Pellegrini regularly and watching with great interest as the Hammers signed nine new players.
Like Pellegrini and his backroom staff, three of the nine are also fellow Spanish speakers – Fabian Balbuena, Lucas Perez and Carlos Sanchez – and Lanzini joked that he and his fellow South Americans and Iberians are taking over the club!
"We have spoken a lot because he wants me to feel good and when I feel good and the knee stays stable and all of these things, I'll go back to the pitch.
"Now, we have a Spanish West Ham team! I missed the team, I missed the people and I think we have brought in good players and we need confidence."
Lanzini has also been overwhelmed by the level of support he has received from West Ham fans on social media and is determined to repay that support when he returns to competitive action.
"I can only say thank you. I always say thank you to the West Ham fans because they have been amazing.
"I've been at this club for three years and they were always good with me and I want to be back quickly and play for West Ham."