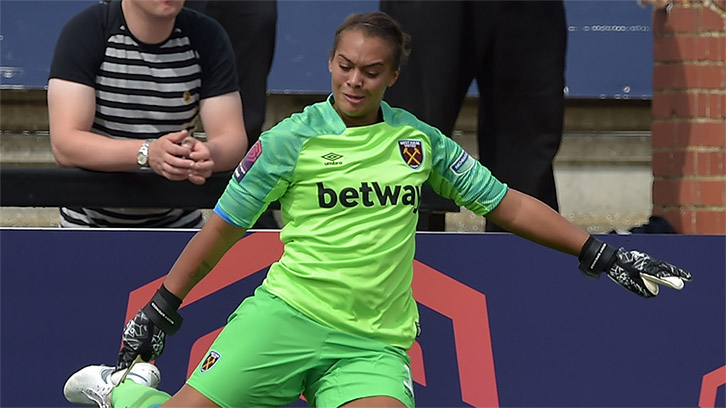 West Ham United are gelling well despite refreshing their squad over the summer in preparation for their first ever WSL campaign, according to goalkeeper Becky Spencer.
New manager Matt Beard brought 15 new faces to east London over the summer ahead of the 2018/19 season which is already underway after two Continental Cup fixtures.
And Spencer, one of the new signings, believes the team now know each other well enough to represent a team rather than eleven individuals on the pitch when they kick-off their WSL campaign at home to Reading on Wednesday 19 September.
She said: "It's taken the squad quite a while to gel, as we're such a new group. It's been interesting to see how we all get on, and how we all play as individuals; it takes time to learn about these things. 
"We're finally in a place now when we're starting to know each other well. Everyone is enjoying every training session and everyone seems happy at the moment.
"I am really enjoying things. I have known Matt for a while around the WSL, and it's good to work under a different management style. He has a different way of coming across to players and he makes you feel very wanted. 
"At a new club, that's how you want to feel and he looks to encourage everyone and it's good to know somebody different. All the other staff are great too. It's been a bit of a slow burner for us, with us missing out on the first week, but everyone is chomping at the bit now to get going in the WSL."
It's been interesting to see how we all get on. We're finally in a place now when we're starting to know each other well

Becky Spencer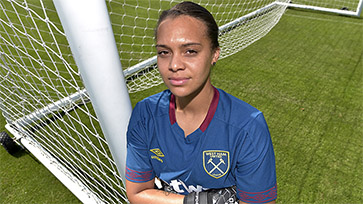 The Hammers have faced Arsenal and Lewes in their cup fixtures so far, losing 3-1 at the Gunners' Borehamwood FC home ground before thrashing Lewes 4-1 at Rush Green.
A fixture against Millwall Lionesses remains in the competition's group stages, before the Reading opener.
"Playing Arsenal in the cup has given everyone had their taster, and so when it comes round to the first game, everyone will be better for those cup games" continued Spencer. "We'll get right into the thick of it straight away so we need to be right at it. 
"Those cup games has given us a chance to play more games, and everyone can experience the style of football we'll face this season, especially for some of the foreign girls coming in.
"But at the moment, every game is great for us and we need to get as many minutes together on the pitch as possible so those games have been important."
Spencer faces competition from fellow goalkeeper Anna Moorhouse this season, with the 23-year-old starting West Ham's last match – the Lewes win.
"When you move clubs, you work with different characters and the first few weeks was about Anna and myself getting to know each other. I think we get on really well as a goalkeeping duo," observed Spencer about the situation. 
"She's a great keeper and it's great to have good competition around you. It pushes you all the time; you know that if one of you is doing well the other needs to up their game. 
"It's nice to have that healthy competition all the time and Johnno [Glen Johnson], the goalkeeping coach, has created the environment where nobody is really safe in the team. If you're not performing in training, you're at risk of losing your spot in the starting XI. It's a good atmosphere and a good environment but at the moment, it's just about everyone being excited to get started.