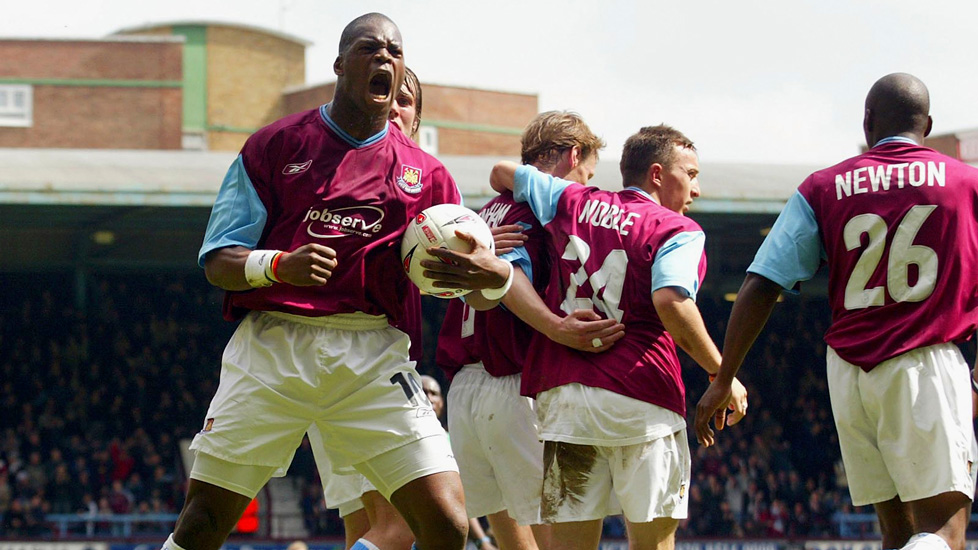 Marlon Harewood looks back on six unforgettable moments from his career in Claret and Blue...
Home debut delight
It's hard to believe it is nearly 15 years since I made my West Ham debut against Wimbledon in November 2003.
I had only signed for the club the day before the game and Alan Pardew asked me to play and I remember it was an evening fixture.
As a kid growing up in London, West Ham was a massive club with top-class players, so it was a dream come true to play for the Hammers.
For Pards to ask me to start the game was on a different level, so I didn't think twice about it. I hadn't even trained, but I just turned up at the ground and played!
The game was actually played at the National Hockey Stadium in Milton Keynes, where Wimbledon had moved to.
My home debut was four days later against Wigan Athletic and we won 4-0 in front of a capacity crowd. I had heard all the stories about Upton Park and seen games there, but to actually step out there and score two goals was extra special.
I can't actually remember the goals, but that's probably because I scored so many!
Unless you play for West Ham, you don't realise how big it is playing for this club.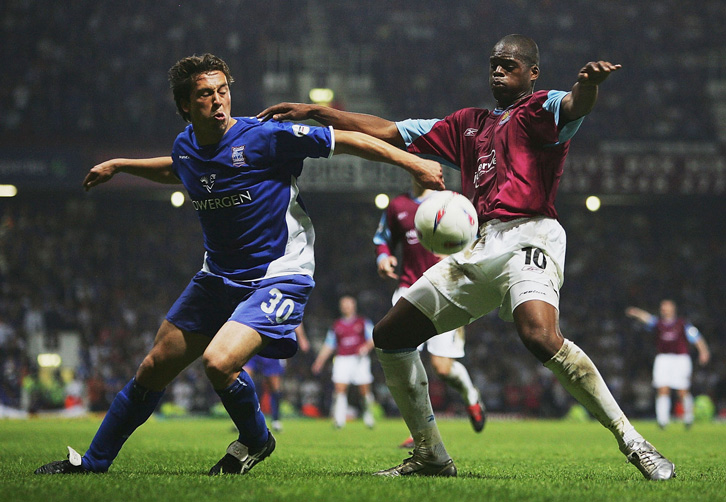 A night to remember
We beat Ipswich Town in the Play-Off semi-finals in May 2004 and the noise inside Upton Park that night was absolutely phenomenal.
That game showed what kind of team and what kind of spirit we had in that team. To be fair, it took a really good manager to know which players to bring in to make that dressing room what it was.
So many of the lads from that era who I speak to say their best days were at West Ham, just because of how we were in the dressing room and as a team.
I felt it at the time and I feel it even more now because I miss it!
When you're with the lads and reminiscing about the old times, it's nice to be able to recall them so fondly.
We really believed we would beat Crystal Palace in the final and we couldn't do much more at the time, and the luck obviously wasn't on our side in that game.
Thankfully, we got back to the final the next year and went up.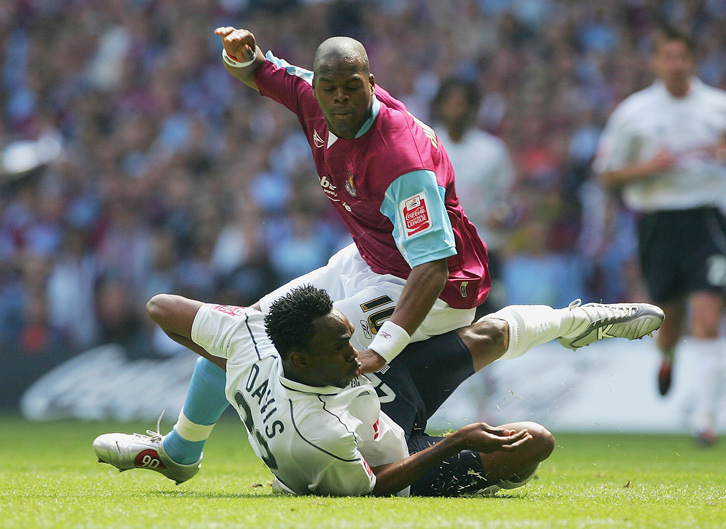 We're going up!
The 2004/05 season had its ups and downs but, once we got to the Play-Off final, we knew we would get promoted.
We had that feeling in the dressing room among the lads as we had been there before and we knew what to expect and how to deal with it.
Luck was on our side that day and Matty crossed and Bobby scored and we were going up.
Pards had brought in a few experienced players that season, with Teddy Sheringham, Chris Powell and Malky Mackay joining us and they helped us, big time.
We had some young and inexperienced players who were a bit carefree, on and off the pitch, and they helped guide us to promotion.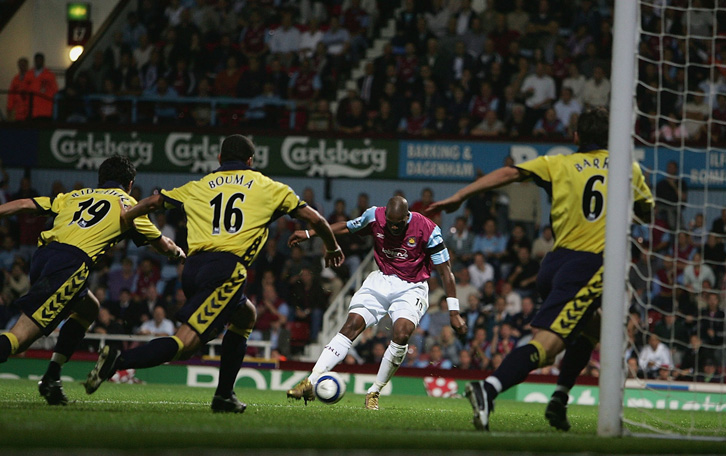 Hat-trick hero
My first Premier League goals for West Ham came along like London busses as I scored a hat-trick against Aston Villa in September 2005.
I remember that game very well as Pards told me before: 'Marlon, you're an amazing lad and an amazing player, you work hard and, if you keep going, the goals will come'.
It was hard as I was a striker who wasn't scoring and Teddy said to me: 'You're going to score tonight and, when the opportunity comes, I want you to take a deep breath and you'll take it'.
It was then Teddy who put me in for my first goal and I chested it down, took my time and put it in the corner. I can remember it like it was yesterday!
I had been thinking too much about stuff, but I kept going, listened to good advice and got my reward that night.
We had a great team around and having someone like Teddy, if you can't learn of him, you can't learn off anyone. After what he had achieved, I couldn't ask for any more and I want to thank him for playing a part in my success at West Ham.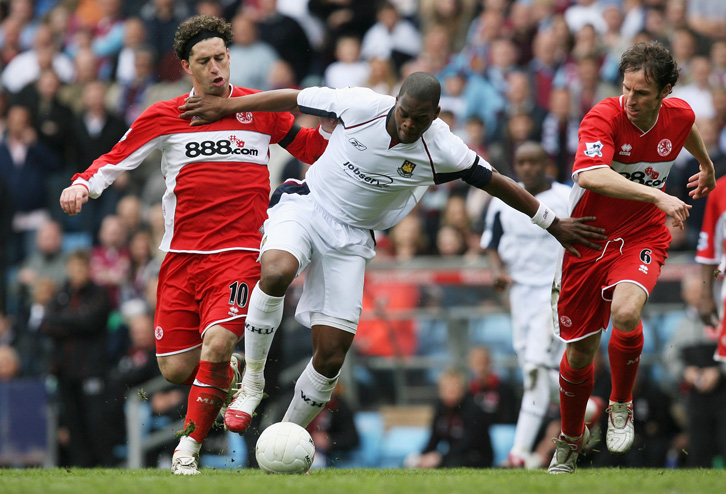 Wembley-bound!
After scoring that hat-trick against Aston Villa, I got my confidence back and went on to score 14 Premier League goals that season, 2005/06.
It was probably my FA Cup goal in the semi-final win against Middlesbrough that everyone remembers, though, and I'll never tire of talking about it.
I can feel that moment every time I think about it. If anyone scored that goal, I think their emotions would have been exactly the same, because we had such a strong bond between us all in the dressing room.
When I celebrated, all the boys jumped on top of me and I was lying at the bottom of the pile and I could feel the ground shaking underneath. I'd never felt that sensation before.
I was just thankful that I could get the goal to put the lads into an FA Cup final to top off how well we had done that season.
If we had lost that game to Middlesbrough, it would have been forgotten about how well we had played after being promoted.
I also remember the fans singing in memory of John Lyall that day, which was very moving.
Scoring that goal seemed to be a release for everyone at West Ham and I am privileged to have scored that goal for the club.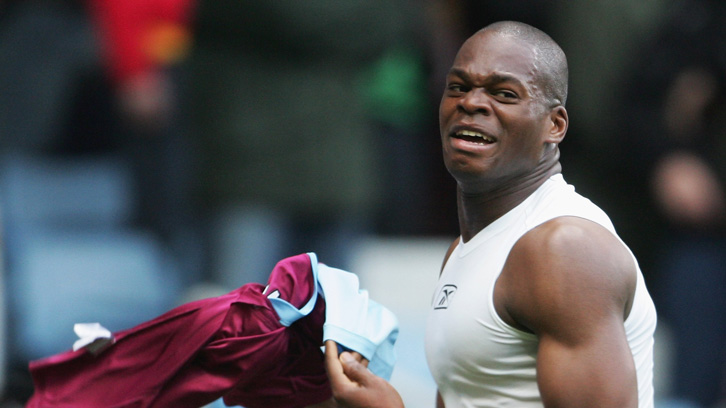 Shooting down the Gunners
The 2006/07 season was an amazing rollercoaster which ended in us staying up with an amazing run of seven wins in our last nine matches.
However, before Pards left and Alan Curbishley came in as manager, we played Arsenal at Upton Park and I scored a last-minute winner which really got the place rocking!
There was a lot of emotion in that goal because I was upset because I wasn't playing regularly and results weren't good.
We hadn't been doing so well, but I got on from the bench and managed to get the winner.
I remember I missed a good chance even before I scored and, as a striker, you worry that you might only get one chance.
I was so angry about the whole situation and then Matty went down the left and I got on the end of his cross and scored. I ran off, took my shirt off and threw it on the floor in sheer emotion.
After the new manager came in, I didn't play much, but I like to think I did play my part in keeping us up with my goal at Wigan late on in the season.
I loved the club, and still do, and I just wanted us to avoid relegation.
I still enjoy the relationship I have will the club now and every time I come back I feel really good about what I helped West Ham achieve during my time here.