West Ham United U23 midfielder Joe Powell revealed the conversation he had just before firing in a free-kick winner against Liverpool in the Hammers' 2-1 win in Premier League 2 on Sunday.
With the match poised at 1-1 with just over a quarter of an hour remaining on Merseyside, the visitors were awarded a free-kick 20 yards from goal, with Powell and teammate Xande Silva standing over the ball.
And the 19-year-old, who had earlier assisted Reece Oxford's opener in the first half, admitted there was no way the Portuguese striker was taking the set-piece. 
He said: "When their player kicked the ball away to sort out their wall, Xande asked me if he could have it and I said: 'No, it's mine!'
"I definitely always feel confident stepping up for those [kind of free-kicks]. I took it and it was perfect for the left foot. 
"The keeper showed me a lot of space to be fair so I just put it into the space and luckily it went in, and of course it's always a great feeling to score.
"I'm always practising them obviously, even for a laugh sometimes I'll be out there having a kickabout after training and taking free-kicks, so set-pieces are important and it's good to have played a part in both goals with them."
It was an important victory for West Ham, who went into the match on the back of two straight defeats against Manchester City and Arsenal.
With an emphasis on starting the game fast, the Hammers did exactly that when Oxford nodded in a looping header inside three minutes and Powell believes that gave his team the momentum as the game continued.
Xande asked me if he could have it and I said: 'No, it's mine!' I definitely always feel confident stepping up for those

Joe Powell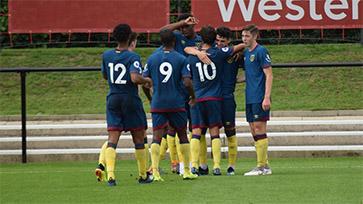 "In the first half, we were up against it a bit – they had a fair few chances and fair play to Trotty, he kept us in it," he continued. "I think sometimes you have to ride your luck, get past that and then the opportunities will come. When they do, you have to take them. 
"I obviously put the corner in for the header for Reece, and I took the chance when I got the free-kick.
"We seem to go behind in the first half of games quite a bit this season, so to be going in at half time after a goal that early in front gave us a big boost."
The U23s now have the international break – with a number of their players heading to training camps with their countries – to regroup and prepare for a trip to Brighton and Hove Albion in two weeks' time.
And with two wins from two on the road so far this campaign, Powell thinks the team will head into the game on the south coast with plenty of confidence.
"We have a break now and after losing the last two we wanted to go into this on the back of a win. That is crucial and now when we come back, we have the Checkatrade and then Brighton away as well. 
"They're never easy and it will be more tests for us and so it's great to go out into the break with a – it gives us confidence and belief going forward and into the next set of games."