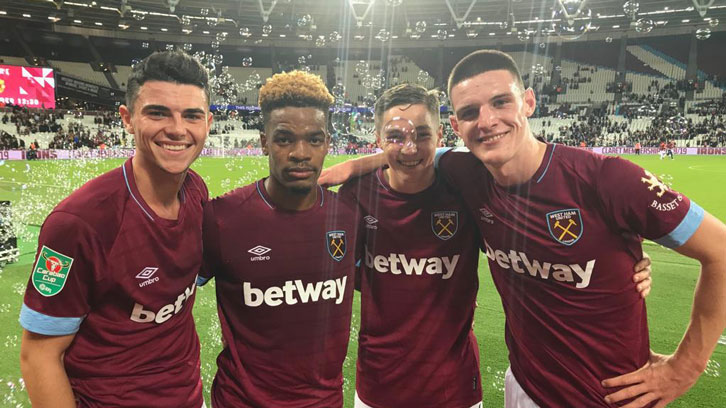 Declan Rice, Grady Diangana, Joe Powell and Conor Coventry have all made their mark in this season's Carabao Cup.
The four Academy of Football graduates, alongside captain Mark Noble were all on the pitch at the end of the third-round win over Macclesfield Town and hope to be involved in tonight's derby with Tottenham Hotspur at London Stadium.
Lads, tell us about your respective West Ham journeys...
DR: I was released from Chelsea at 14 and signed for West Ham within two weeks. I was the last to get a scholarship of the five of us at the time. I pushed on, got my professional contract and performed well as captain of the Under-23s. I made my first-team debut at the end of the 2016/17 season and last year was my proper breakthrough year. This season I've started games as well and it's been an amazing journey; I have to pinch myself sometimes. There was only one thing I wanted to do, be a professional footballer and I wasn't going to let being released by Chelsea stop me doing that.
CC: I came for a trial when I was ten. I got signed after the trial and came up the age groups. I'm still playing in the Under-23s now. 
JP: I started here when I was six. My elder brother [Jack, now with Maidstone United in the National League] was here so I was always around almost since I was a baby. They signed me after my first session and I've carried on playing here ever since.
What are your memories of watching West Ham as a boy?
JP: I liked the era of Tevez etc. I was a ball boy at Upton Park and I have seen it up close. Obviously, Mark Noble as well, he's come up through a similar background to me and I look up to him a lot. The time has flown by but when the time hits you, you don't expect it to come so quick.
What was the Macclesfield game like?
GD: The atmosphere was more than I was used to. Playing in front of that many fans was amazing. The way the game went, the team performed well and that was really pleasing. 
JP: I think the biggest part of it was playing against men and it's different to 23s football. You learn a lot. Coming on and getting two assists was a massive thing for me and the support that you get from the fans as well. I think the massive West Ham fans already know who you are. But to come on in front of 27,000 and put your name around and get noticed is big.
CC: Obviously it was a dream come true, you have to pinch yourself a bit. I've been at the club a long time so to finally play for the first team was great. I think we all wanted to make sure that it wasn't 'That's it'; we all want to get more of that feeling and try and play again. 
What values do they teach you in the Academy of Football?
CC: The main one is respect. That doesn't just develop as players, but as people as well. I think we've all developed as people here too.
Declan is a bit of a role model at the Academy. Do you look up to him?
JP: Of course. We are the same age but he was obviously in our shoes at one point and I always speak to my friends and it's unbelievable how far he's gone. We want to follow in his shoes too.
GD: You can see him in training and in matches, he is always focused and trying to get better and be the best player and we're just trying to look up to him. If you see someone the same age doing that, you think you can do that too.
CC: It's great to see him come up and still improving and coming through the ranks.
What about these three lads, Declan…
DR: I think I have probably played in 50 games with these three and the way they've trained with the first team hasn't changed one bit. I think that comes from Terry Westley as well. He's always on their case to improve and these three themselves have always been doing that. For their first appearances, they weren't fazed and they had confidence. They are all hungry for more, they're always at it in training every day, they're pushing for a space in the team. We have so many good players in the Academy. These are the three who were chosen to play and they took their chance but if it was anyone else, I'd have expected that as well because we have so much talent; it's just about getting your chance and playing games.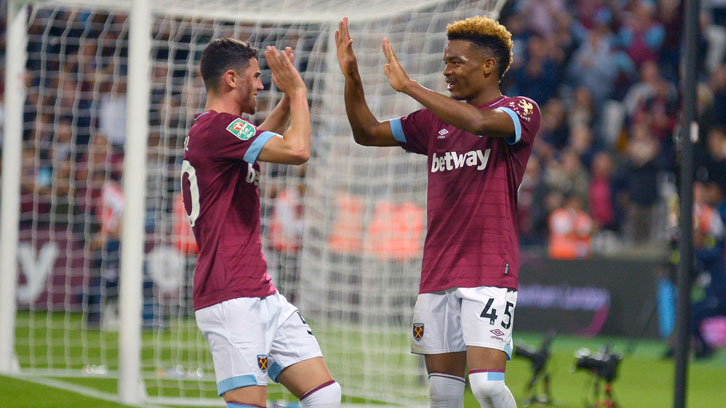 How do you feel about Carabao Cup as a competition and the opportunities it presents?
JP: I think it gives the younger players opportunities. In the Carabao, the manager believes in the players to give them minutes so it's good for the young boys.
Grady, you've had more opportunities since then, too…
GD: It's good to see the manager has faith in me and believes in me to put me on in such an occasion and I'm just working to try and keep going. Every moment with the first team is an opportunity to kick-on and I train every day like it's my last. I was born in the [Democtratic Republic of] Congo and came here when I was four years old. Now I'm in Greenwich.
How do you keep your feet on the ground, Declan?
DR: You have the players here; Noble, Arnautovic. If they see you slacking, they will pull you straight away and tell you. I have a good family around me; my parents who have ferried me around the country and two older brothers. Also my girlfriend, who is really supportive and always there to talk to. I have good people around me and don't think my feet will come off the ground.
You played in the 3-2 Carabao Cup win at Spurs 3-2 last year…
DR: We went in 2-0 down at half time and Spurs are obviously an unbelievable side. We could have folded but we had a big chat at half time and went out there and turned the heat on. We got three goals and it was end to end. We defended excellently that night, but also being at Wembley it was an unbelievable night.
Can you win again tonight? And can you win the Carabao Cup?
DR: As players we sat down at the start of the season and said 'Let's go for a trophy this year, whether it's the Carabao Cup or the FA Cup'. I think we have a chance. I think once we beat Spurs, we'll be in the quarter-finals and you're two wins from Wembley. We're fully focused and determined on hopefully winning this competition."