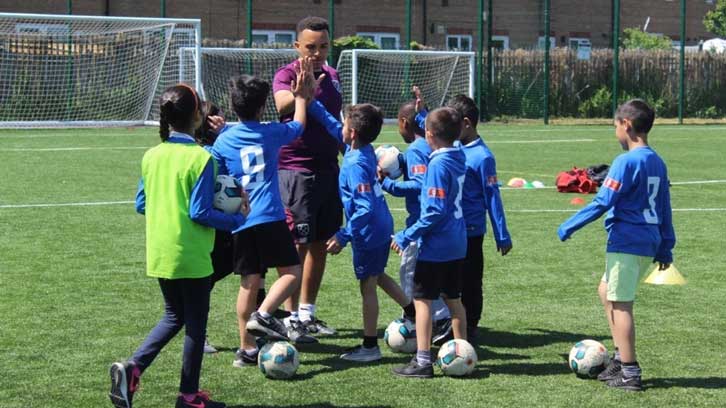 Two West Ham United Foundation members of staff have been nominated in the 2018 Football Black List Awards.
The awards, founded in 2008, highlight the most influential individuals from African and Caribbean backgrounds in the sport. 
Household names and highly respected people from the industry including Rio Ferdinand, Dame Heather Rabbatts, Yaya Toure, Hope Powell CBE, Lord Herman Ouseley and Rachel Yankey OBE, have featured on the awards list previously.
The event, which will take place at Village Underground in London on Thursday 1 November, has added significance this year as it also marks 10 years of the initiative.
It will be an extra-special ceremony where they will also be honouring the 100th anniversary of the birth of Britain's first black outfield footballer, Walter Tull, and widening their Ugo Ehiogu's One To Watch Award (UEOTW) to include 30 talented and successful young people, all under the age of 30, making great strides in football. 
West Ham United Foundation's Arran Johny (Youth Investment Fund Lead Officer) and John Akon (Employability Co-ordinator) have both been shortlisted for the 30 under-30 Ugo Ehiogu's One To Watch Award this year due to the outstanding contributions that they continue to make within the community.
On hearing the news, they said: "We are passionate about delivering diverse opportunities, empowering communities and making a difference. To be nominated at these Awards is a privilege, particularly within the UEOTW category, and we are looking forward to attending the celebration on Thursday." 
The Awards are backed by the Premier League, The FA, PFA, LMA, EFL, Kick It Out, BCOMS, and the FARE network. Importantly, the initiative has widespread support in the community and is published in The Voice Newspaper each year. Internationally, the list has been welcomed by FIFA.
Rashid Abba, WHU Foundation Employability and Coach Education Manager, works with both men and stated: "I am delighted for them – it is well deserved recognition. From where they started to where they are now is inspiring, they are future leaders for the communities we work with and beyond.
"Their commitment ranging from volunteer, sessional coach, mentor and youth forum lead is outstanding. They have become role models and exemplary social inclusion practitioners, developing pathways and partnerships and changing lives - they are the legacy and I look forward to seeing what else they will accomplish in the future!"
Further details about the Awards can be found here: www.footballblacklist.com