West Ham United manager Manuel Pellegrini discussed all things Hammers with the media on Thursday ahead of Saturday's Premier League clash with Leicester City.
The Chilean offered his thoughts on this weekends' opponents, whether youngster Grady Diangana could play, his opinions on Robert Snodgrass' form, and more…
'Leicester City are a very good team' 
"As always, in every game in the Premier League, you must start by saying it will be a difficult game," Pellegrini said, when asked about playing Leicester City this weekend.
Like the Hammers, the Foxes have been beaten in their last two Premier League matches, but Pellegrini is still expecting a difficult test at the King Power Stadium. 
He continued: "All the games are difficult in the Premier League because the teams have similar players and all of them have money to bring in good players. Leicester are not an exception. 
"They have very good players and they continue working in the right way. For me, they are a very good team."
'Diangana will have chances'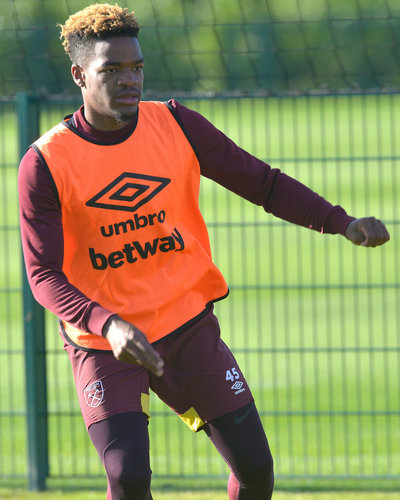 One player who will be itching to get another chance is Grady Diangana. The Academy graduate has impressed since making a goalscoring senior debut against Macclesfield, with the 20-year-old putting in a bright showing last weekend against Tottenham Hotspur. 
Does this mean that Diangana is in line for his first Premier League start against Leicester City?
"On Saturday, we will see," Pellegrini said on the youngster. "I think he's a young player who has a lot of good technical conditions. He needs to improve on other things, but he will have some chances in some games." 
The first team manager also revealed why the West Ham U23s squad has been training at Rush Green Training Ground recently, saying it gives him a chance to see the Academy players working on a daily basis.
He added: "One of the important things, why we brought the U23s players to work with us and work on the pitch beside the first team squad, is so we see all of them working every day and we know that when we need a player, they will come immediately to work with us."
'We must score the chances we create' 
Although West Ham suffered narrow 1-0 defeats in their last two games, against Tottenham and Brighton and Hove Albion, Pellegrini has been happy with the performances he saw from his squad. 
The manager however admitted that his team needed to turn their chances created into goals scored if the Hammers are to climb up the Premier League able.
"I feel that we are improving," Pellegrini continued. "If you saw the game against Tottenham, the team that maybe created more chances and deserved to win was our team, but we didn't. 
"So, in the last four games, in three of them, I agree we are playing well and improving, but also in three of those last four games we didn't score goals, so something is missing. We must score the chances we have.
"We continue to work on defending, and we're improving a lot. Now we must score the chances we create, or create even more chances."
'Snodgrass is deserving of his playing time' 
Robert Snodgrass has played in each of West Ham's competitive matches this season, and scored his first goals for the club in the 8-0 win over Macclesfield at the end of September.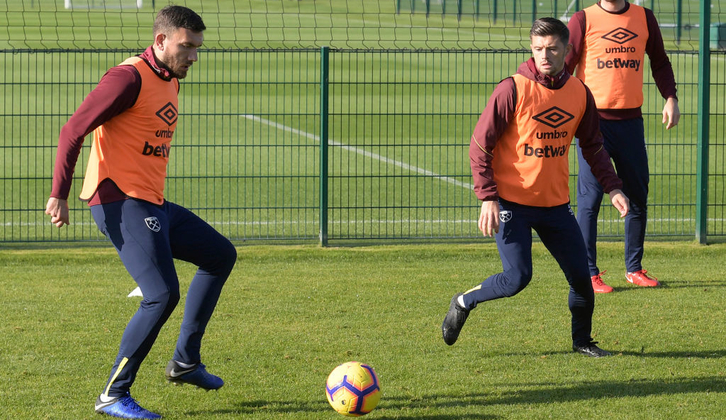 The 31-year-old played the full 90 minutes of West Ham's last game, and Pellegrini has been impressed with the Scotsman's work ethic, intensity and drive in training.
The boss said: "At the beginning of pre-season, I spoke with Robert. I knew him before when I was at Manchester City and I've always considered him a very good player. 
"He worked very hard in pre-season. He lost a lot of weight – four or five kilos – and he's working hard every day. All of what he's doing on the pitch is deserved because of the way he's working."
The manager believes Snodgrass has proven himself a useful option across midfield for the Irons and is delighted to have him in his squad. 
Pellegrini added: "When I spoke with him at the beginning of the season, I couldn't be sure with him that he will play all the games. But I told him we needed a strong squad, and he's now doing his duty in a very good way. 
"We will see if he will continue in the position he played last game. I think Robert can play in three or four different positions; left wing, right wing, midfield. The important thing is that when he plays, he is a very useful player." 
'Wins are not guaranteed in the Premier League'
Having played the likes of Liverpool, Arsenal, Manchester United and Tottenham since the start of the season, West Ham's game with Leicester City starts a run in which the Hammers will play just league game against a side currently in the top half of the Premier League for the remainder of 2018.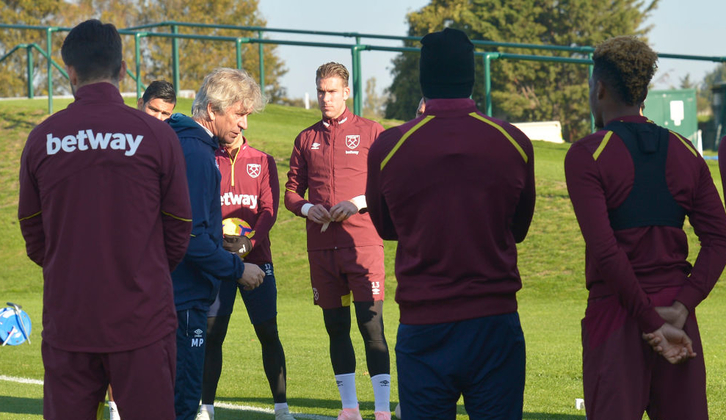 Pellegrini has been mainly pleased with how his team have performed against the division's top clubs, but says that does not mean wins can just be expected against upcoming opponents. 
The manager wants to see his side appropriately apply themselves and give their all to pick up as many points as possible. 
"When I, or we, say all the Premier League games are difficult, it's not a cliché. All the games are difficult," Pellegrini insisted. "If you review our fixtures then maybe I'd agree with you that, in the first ten games, we have played eight teams that are in the top positions of the table. 
"Now we are playing teams that are in similar positions to our team, but that doesn't guarantee that we are going to beat them. Our best games were against Arsenal and Manchester United and Chelsea and Tottenham. The big teams, except Liverpool, we've played really well. 
"I don't think we should be thinking they are stronger or weaker or similar teams. I think we must know what we are doing well, what we must improve and try to continue playing the way we did against Tottenham for 90 minutes."