West Ham United first team players headed to Beckton as Lycamobile and the West Ham United Foundation came together to launch the 2018/19 Lycamobile Cup - the sixth year of the community youth football competition.
The opening tournament – the first of the qualifying round stage - took place at West Ham's community hub in Beckton, and was attended by Michail Antonio, Lukasz Fabianski, Pedro Obiang and Grady Diangana, as well as rising stars from the West Ham United Academy, who acted as referees.
The Lycamobile Cup involves young players from local secondary schools and community centres, who compete in a series of tournaments over the course of the season, before a finals day at the London Marathon Community Track, next door to London Stadium.
Hammers star Antonio said: "Being here brings me back to my childhood and doing these tournaments, but when I was growing up we didn't have professional footballers coming down so it's a great treat for them and I'm enjoying it.
"It's an opportunity for us to come down and support it, show our faces and show that professional footballers are not too far away from them. We can show them that we're local, we're around here and we made it, so why can't you?"
Midfielder Obiang was also thrilled to lend his support, adding: "For both West Ham and Lycamobile it's really important to back this tournament, because we have to remember that these kids can be the future. 
"We have to be close to them and try to give them the best possible chance to become great players and great people. It's a really good thing for West Ham and Lycamobile to be involved in."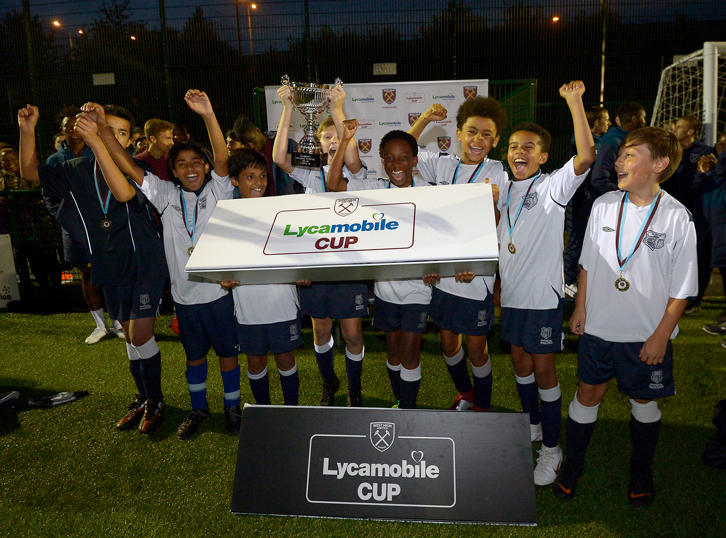 Poland international goalkeeper Fabianski said: "It's a great initiative to hold tournaments like this and seeing the kids enjoying it and having a really good time is great. 
"That's something special and it will probably be one of the most memorable days from their childhood. That's something nice and I'm really happy to be here as part of it in some way. You can see the kids are really having a great time."
The 2018/2019 season marks the sixth year of the Lycamobile Cup, which forms part of the longstanding partnership between Lycamobile, the world's largest international mobile virtual network operator (MVNO) and West Ham United. Since its inaugural year in 2013/2014, the Cup has played an important role in the local community, celebrating the next generation of footballing talent from across the area and encouraging youngsters to achieve their goals. 
Progressing from Tuesday's tournament were Under-12s winners Brampton Manor Academy and runners-up St Bonaventure's RC Secondary. In the Under-14s category, Langdon Academy took the honours with Kingsford Community School in second