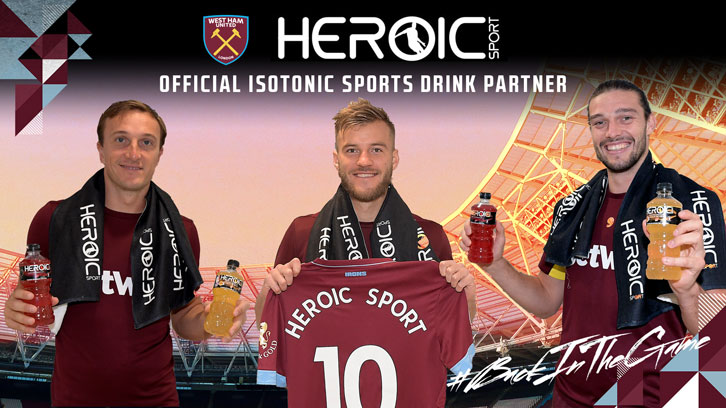 West Ham United are delighted to announce an agreement with Heroic Sport as the Club's Official Isotonic Sports Drink Partner.
Heroic Sport is an isotonic sports drinks company founded by Paris St Germain and former Arsenal, Chelsea and Portsmouth midfielder Lassana Diarra.
A natural product which provides an outstanding solution to rehydration for athletes, Heroic Sport combines intense hydration and natural aromas with no artificial colours - all while containing less sugar and salt than their competitors.
The partnership will provide multiple digital and branding opportunities for Heroic Sport and see the two parties work closely together across a range of activations this season as Heroic Sport continues its impressive growth.
West Ham United Digital and Commercial Director Karim Virani said: "I am thrilled to welcome Heroic Sport to the West Ham United family. Heroic Sport's growth plans clearly match with the ambitions of West Ham United and I am very excited to see how this partnership flourishes in the months ahead.
"Heroic Sport are a brand that will resonate significantly with the club and our fans, sharing our ambition to challenge the top of our respective worlds. We are excited to see this partnership grow from strength to strength."
Heroic Sport's president Lassana Diarra said: "I have spent many years and had a great time playing in the Premier League and as a fan of British football, it is a great pleasure and accomplishment for me to associate my brand with a great and iconic football club like West Ham United. 
"I am confident that this association will be a turning point in Heroic Sport's reach in the UK."
For more information on Heroic Sport, please visit http://heroicsport.fr and you can follow Heroic Sport on social media @heroicsportdrinks and Lassana Diarra @lass_officiel