West Ham United trio Declan Rice, Ryan Fredericks and Grady Diangana have been presented with commemorative footballs to mark their Premier League debuts.
Rice made his bow at Burnley in May 2017, followed by Fredericks at Liverpool on the opening day of this season and Diangana, who debuted in the recent 3-1 win over Manchester United at London Stadium.
Academy Director Terry Westley, Hammers hero Carlton Cole and the Premier League's Games Programme Manager James Westlake were at Rush Green to hand over the Premier League Debut Footballs, which have been presented to all home-grown debutants since the beginning of the 2015/16 season.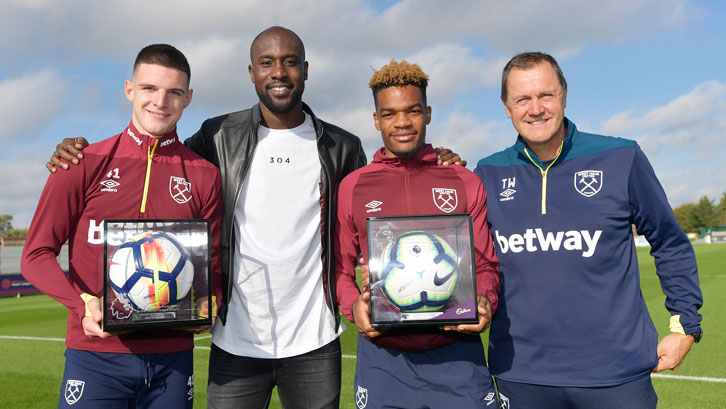 "We've always known about Grady and that's why we've always given him new contracts and kept working with him and he made a real impact on his first-team debut in the Carabao Cup game and then followed that by getting on in the Premier League against Manchester United," Westley observed.
"He can beat people and that's a trait going out of the game. Some people play safe, but Grady is someone who can go past people and make things happen and he's shown that it in front of the manager and the first team staff.
"I think Grady and Declan both single-mindedly work at their games. They rev it up every day and don't just come in and go home at 12 o'clock, and it's no coincidence that they're the two who are pushing on. They are fine examples to all our young players.
"I think this is a fine gesture because it marks an unbelievable challenge now to get a game in the Premier League. This needs to be the start, as when you've played 50 or 100 games you can say you're a Premier League player."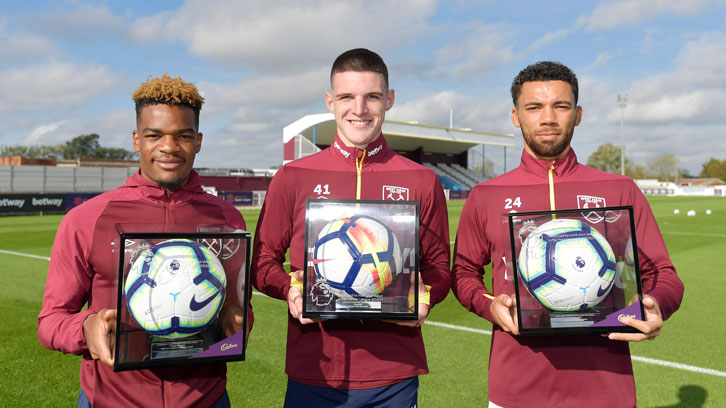 Nearly 15 years on from his own Premier League debut for Chelsea, and 12 after scoring on his first top-flight appearance for the Hammers against Charlton Athletic, Cole lauded all three players for their commitment to reaching the highest level of the game in this country.
"It's lovely to be involved giving out awards and congratulating players on their careers to date," said Cole. "It's a great thing for them.
"I obviously know first-hand how much graft and energy to you need to put in to make it to the top and, once you get to the top, maintaining that. I just like to see, when the players get there, what they do after that to stay there.
"Dec is an asset to the club. He was at Chelsea as well, a bit like me, and he's come over here to better himself and he has shown endeavour and dedication to get to the first team.
"Grady is a very exciting player and he's got skills to pay the bills. The challenge I pose to him is how he can build on what he's done so far. As long as he stays grounded, he should get to the heights he wants to get to.
"Ryan knows the game, he's an experienced pro and has had a fair amount of games at a high level and he wants to get back into the first-team setup now. Once he gets in there, he has got to show what he can do and stay there. He's got the minerals for it, so I know he'll be OK."
Previous Premier League Debut Ball recipients include Josh Cullen, Michail Antonio, Reece Oxford and Sam Byram.