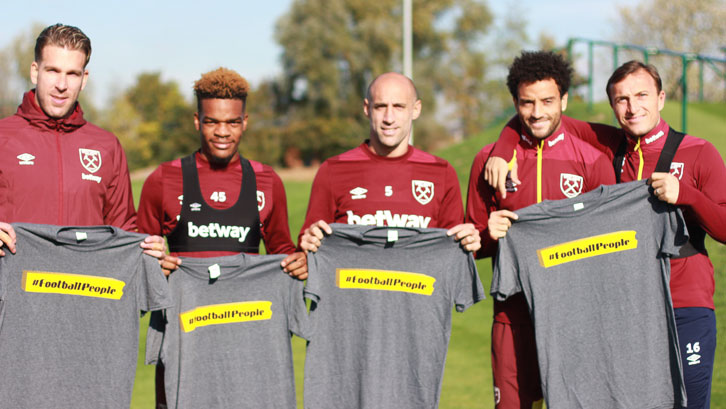 West Ham United is one of more than 400 clubs from 60 countries supporting the #FootballPeople action weeks, which kicked-off on Thursday 11 October.
Organised by the FARE network, #FootballPeople is an annual worldwide campaign aimed at tackling discrimination and celebrating diversity across the game, from grassroots to international level.
Supported by UEFA, this year, more than 400 clubs and 35 national associations are involved, with reference to #FootballPeople being made at the dozens of UEFA Nations League, Champions League, Women's Champions League and Europa League fixtures being played between 11-25 October.
Captain Mark Noble, who is part of a first-team squad including players hailing from 15 different countries and four continents, said the club was fully supportive of #FootballPeople and backed the message of inclusivity and diversity.
"West Ham has and always will be a club for everyone, regardless of gender, disability, age, race, religion or sexual orientation," said Noble. "I am immensely proud of the fact that our football club is one which is truly a family.
"There is absolutely no place for discrimination, at any level. From the First Team to the Academy, through the staff and in the stands, we treat one another with respect. We are what our name says we are, West Ham United."
Every player, staff member and supporter within our diverse fanbase is warmly welcomed to West Ham United and is free to be part of the Claret and Blue Army and feel safe, respected and included without fear of discrimination or abuse.
West Ham has and always will be a club for everyone, regardless of gender, disability, age, race, religion or sexual orientation

Mark Noble
For nearly 125 years, West Ham United has been about community, family and togetherness, values that were championed by Arnold Hills back in 1895 when he founded the club which continues to flourish well over a century later.
The club's long-held values are being put into practice in a variety of ways, with the We Are West Ham. United diversity campaign launched in October 2017 reaching more than one million fans in London Stadium and online.
The recently-launched Official Supporters' Board and its associated groups for Disabled and Junior fans provide representation from across our wide spectrum of supporters, ensuring their suggestions, needs and requirements are heard and, where possible, acted upon at the highest level.
On matchdays, a diverse team of dedicated Supporter Liaison Officers (SLOs) are on hand to assist supporters at London Stadium, while shuttle buses and dedicated staff provide fans with Accessibility requirements, a safe and easy way to attend matches.
Talking of matchdays, the Club is proud that there has been a 47 per cent increase in matchday staff from BAME backgrounds and 16 per cent increase in female staff since West Ham moved to London Stadium in 2016.
Away from the ground, the Club has official partnerships with seven unique and distinct charities including Blesma, The Limbless Veterans, the Bobby Moore Fund for Cancer Research UK, Richard House Children's Hospice, DT38 Foundation, the Moore Family Foundation, St Francis Hospice and Ambition Aspire Achieve, and supports national inclusion charities including Kick It Out, Stonewall, Show Racism the Red Card and the Holocaust Memorial Day Trust.
Meanwhile, the award-winning West Ham United Foundation delivers inclusive life-changing opportunities to more than 20,000 residents in over 35 active projects across health, education, employment, community sport and football development.
Last but by no means least, a comprehensive programme of equality training ensures West Ham United staff are educated in important areas such as mental health, disability awareness and unconscious bias.