Fabian Balbuena believes his move to West Ham United and the Premier League was the catalyst for his return to the Paraguay squad.
The centre-back has impressed in Claret and Blue since making a summer switch from Brazilian club Corinthians to the Hammers, and his form has not gone unnoticed by new Paraguay manager Juan Carlos Osorio.
Osorio, who led Chicharito's Mexico at the 2018 FIFA World Cup finals, included Balbuena in his first squad for an introductory training camp, and the 28-year-old is determined to make his mark.
Paraguay always had a strong defence, with very powerful defenders who play with 100 per cent determination

Fabian Balbuena
"The dream of every player, at least in South America, is to play in the big leagues," he explained. "The Premier League is one of the best, if not the best, it has the best players in the world and every kid, when they start playing football in South America, can see the Premier League matches and dream about playing in one of those teams, so, obviously it was a motivation, a challenge.
"And obviously I also thought about the national team, which is going through a transitional period and it's important to have as many players as possible in the big leagues. We have them in Spain, in France and it's really important for Paraguayan players to develop their potential in the national team."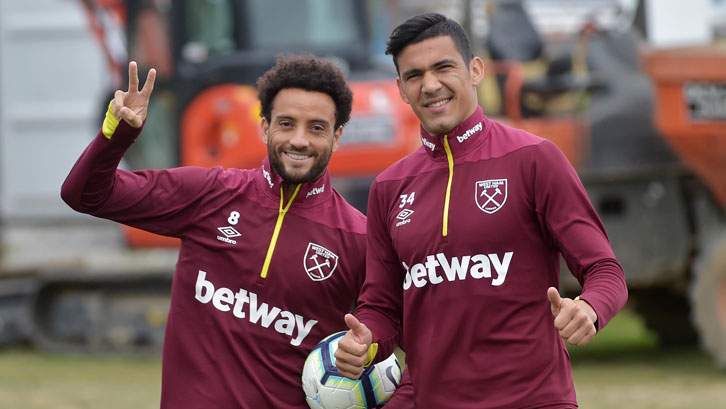 Balbuena is one of just seven members of Osorio's 27-man squad to ply his trade in Europe, and the only Paraguayan currently featuring in the Premier League.
As such, he sees himself as setting an example for his younger fellow countrymen to follow if they too aspire to play on this side of the Atlantic Ocean.
"Paraguay always had a strong defence, with very powerful defenders who play with 100 per cent determination, and you have to keep that up because if you do a good job you'll open all the doors for future footballers," he observed. "First of all, I think of myself, grow up as a person and as a professional and I want to keep the bar high for Paraguayan footballers."
Balbuena and his 26 squad-mates, who hail from clubs in eleven different countries, trained under the eye of Osorio for the first time on Monday and will do likewise at a number of leading club stadia across the Paraguayan capital, Asuncion, over the next week.
The South American nation failed to qualify for the 2014 or 2018 FIFA World Cup finals, having featured at the previous four tournaments, and Balbuena says every member of the squad is determined to help Osorio lead them to Qatar 2022, as well as a successful showing at the 2019 Copa America in Brazil.
"We are very excited," said the No4. "In South America the work of coach Osorio is well known, in all his past teams. When we started talking about the national team we said that it's a transitional phase so his work will be very important with us, and with the class of players we have we are very excited and we believe we can achieve very important things with Osorio and are looking forward to them."