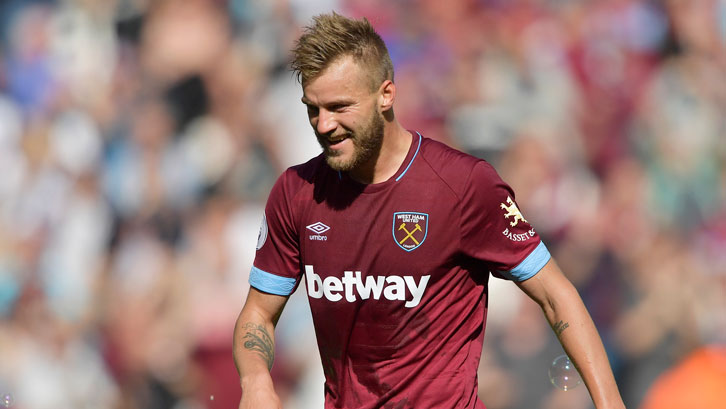 Despite being a West Ham player for just three months, Andriy Yarmolenko is already a popular member of the squad.
With a ready smile, unique dress sense, a quick wit in his ever-improving English, the winger has made his mark in the dressing room.
Yarmolenko's speedy integration was clear for all to see recently, when an unnamed teammate pinned posters of a man with a square head on his locker at Rush Green, in reference to the header he planted wide from just six yards in the goalless Premier League draw with Chelsea.
We want to play good football that both the fans and the players will enjoy

Andriy Yarmolenko
"I thought it was funny!" Yarmolenko smiled, "but of course I wish I had scored, so having this picture taking the mickey out of me was my fault. I hope I score next time and they can put this photo on my place instead!"
The fact the No20 was so ready to accept the light-hearted criticism was evidence of just how good the spirit is in the West Ham dressing room on the back of a four-match unbeaten run.
"The start of the season was not the best," he observed. "I can even say it was quite poor because we didn't get any points, but we have all worked very hard to change the situation and it was quite obvious that everybody was together when we won the game against Everton. We really, really wanted to win that game, and we did well again in the Chelsea and Manchester United games, too.
"From the first day here, I felt I was part of a big family. It's a friendly club and everybody is friendly and jokes with you and I feel really happy."
???? pic.twitter.com/rQQ3Rl57GM

— Andriy Yarmolenko (@Yarmolenko_9) September 24, 2018
Yarmolenko was all smiles again on Saturday, when his deflected strike put West Ham two goals up and on their way to a 3-1 win over Manchester United at London Stadium.
That victory lifted the Hammers to a season-high 14th in the table and they could rise to tenth with a win at Brighton & Hove Albion on Friday evening. And the 36-goal Ukraine star wants the team to produce another performance full of style and substance at the Amex.
"I don't want to look too far ahead and want to say we're going to win the title! We need to take things step by step and think about the next match.
"Obviously, everyone wants to set the highest possible targets for themselves but, as we say in Ukraine, we don't want to be running ahead of the train!
"We want to play good football that both the fans and the players will enjoy. If we do that, then we will get the place we deserve at the end of the season."