Aaron Cresswell surprised pupils at Snaresbrook Primary School by joining in with one of their Premier League Primary Stars PE lessons recently, helping children get active on their return from the summer holiday break.
Cresswell dropped in on their Premier League Primary Stars PE lesson, joining Year 3 pupils in a session which involved which focused on developing the children's hand eye coordination, teamwork and confidence within physical activity using a range of different equipment
Whilst at the school, the Hammers defender donated a Premier League Primary Stars equipment pack, including footballs, numbered and lettered floor spots and giant dice, which teachers at the primary school can use in lessons across the curriculum to help inspire children to learn and be active.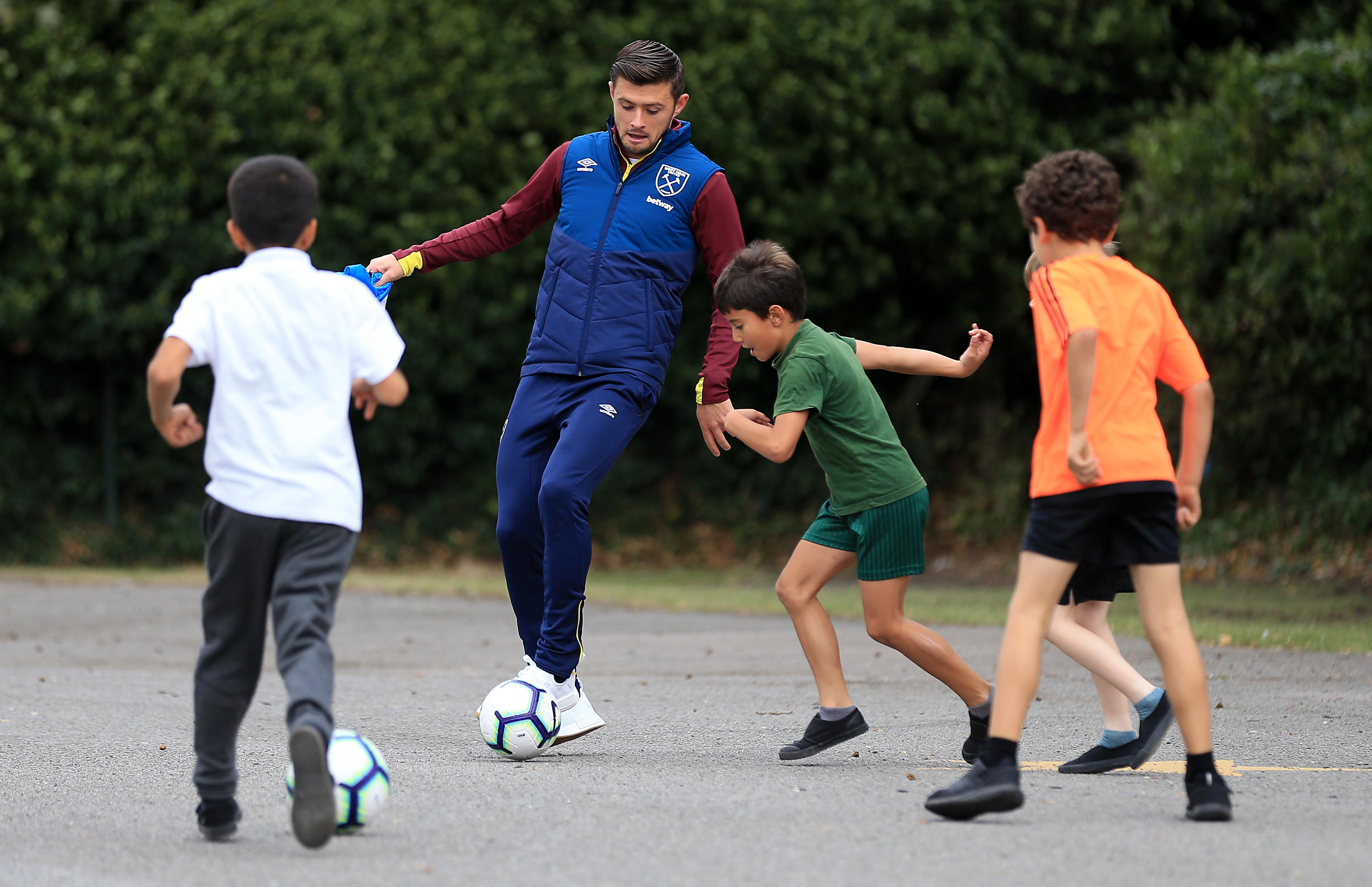 The back to school visit coincides with the opening of the Premier League Primary Stars Kit and Equipment Scheme application window, which enables primary school teachers across England and Wales to apply for a free football strip or a free equipment pack like the one donated by Cresswell last week.
West Ham United are one of 101 Premier League, EFL and National League clubs in England and Wales which provides in-school support to teachers and pupils as part of Premier League Primary Stars - the organisation's education-linked community programme.
Cresswell said: "It was brilliant to head down to Snaresbrook Primary and get involved in a PE lesson with the kids. PE was my favourite lesson at school, so it was great to see how full of energy and enthusiasm they all were and how much they loved the new equipment. It took me back a few years!"
Graham Ford, Headteacher, Snaresbrook Primary School, said: "We can't thank West Ham United Foundation enough for today. It's been such a lovely day and the children will benefit tremendously both from the partnership and the equipment donated."
Ross Williams, Senior Schools Development Officer, West Ham United Foundation added: "We're so honoured to work with the Premier League to deliver such an inspiring programme. It was a really nice day and it was great to see Aaron interact so genuinely with the children.  Additionally, it's been brilliant for the West Ham United Foundation to be able provide children with positive role models, such as Aaron, to help support their educational development."
Run in partnership with Nike, the Premier League Primary Stars Kit and Equipment Scheme provides primary school teachers with football kit and equipment to aid active lessons both in the classroom and on the sports field. 
The scheme is available to primary school teachers who register to participate in Premier League Primary Stars at PLPrimaryStars.com, where curriculum-linked resources including lesson plans and worksheets are available to download for free.
Teachers based in England and Wales have until 26 October 2018 to visit PLPrimarystars.com to register and apply for the free kit or equipment pack.