Rosie Kmita was thrilled to fire West Ham United to their first-ever FA Women's Super League win with her late goal against Yeovil Town on Sunday.
Kmita drilled a wonderful left-footed effort across Yeovil goalkeeper Megan Walsh and into the bottom right corner with just eleven minutes left to secure a 2-1 victory.
The goal was a show of the Hammers' character after Yeovil's Ellie Mason had cancelled out Leanne Kiernan's opener and Kmita was delighted to do her bit after being introduced from the bench.
"It's an unbelievable atmosphere in the dressing room right now," she said. "We're all extremely happy and we deserve it.
"We've all worked so hard since pre-season, so to get the three points was important to us on Sunday.
"I don't think it was our best performance against Yeovil and every player will hold their hands up and say that, but good teams still grind out the three points when they don't have the best performance. That was very important for us.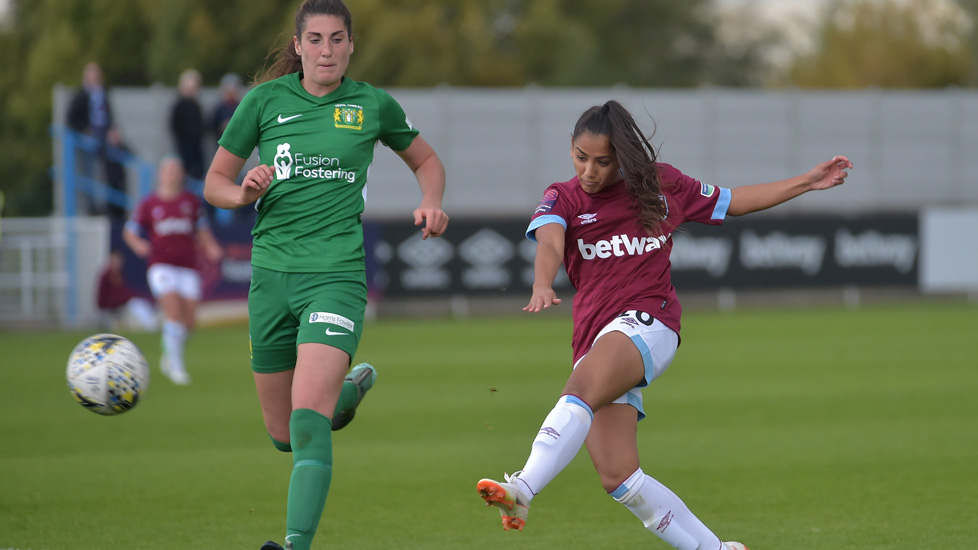 "It was nice for me to get on and do that for the girls. They put their trust in you every day so I was really pleased to do that for the team.
"I could have gone on one-v-one with the keeper, but I thought no, it's better to just strike it and get my foot through it, and it went in.
"It's been an amazing couple of months. We've been learning every day because we're a brand new team that's been put together from the start, but the way we've integrated with each other since the first day of pre-season has been amazing and I think that shows on the pitch."