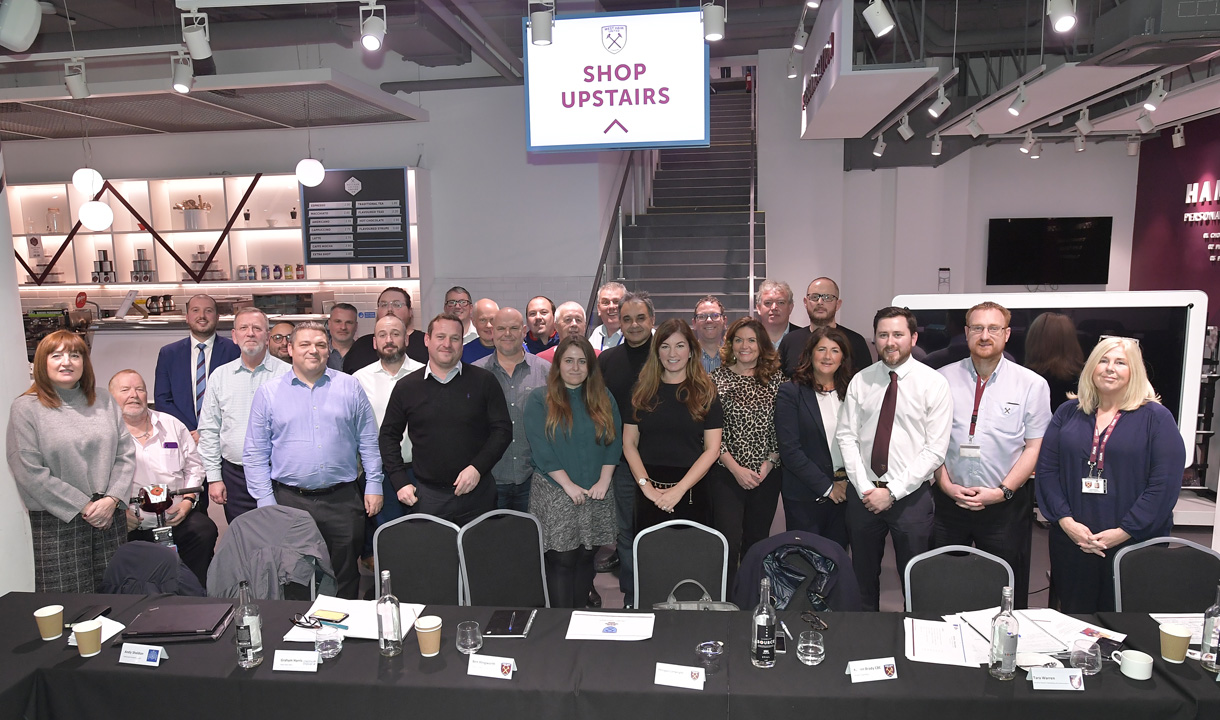 The newly formed West Ham United Official Supporters' Board held its first meeting at London Stadium on Thursday evening.
The Official Supporters' Board is a new and enhanced forum which will ensure the best possible representation for our wide and diverse fanbase, providing supporter representatives with greater access, opportunity and an influence on what happens at the Club.
West Ham United Vice-Chairman Karren Brady welcomed the inaugural members of the Official Supporters' Board, before outlining the aims and objectives of the group.
With senior members of Hammers staff present, the Supporters' Board were updated on the consultation process and new features of the group, which include:
A new structure – A Chair and Vice-Chairperson on the WHUSB elected by your Supporter Representatives
Direct contact and support for Supporter Reps – All Supporter Representatives will be contactable through the Club's official website
A voice for Young Hammers – The launch of the Junior Supporters' Board, a unique forum focused on our younger fans
A growing Disabled Supporters Board – Three new members to be appointed independently by the Co-chairs of the DSB
Specialist subgroups – Giving fans a real chance to influence decisions made by the Club 
An independent selection process – All applications are anonymised and reviewed by four independent panel members - this year included Club legend Sir Trevor Brooking as a panel member
Bringing the Supporters' Board to life – More than just minutes, we will see creative content showing the hard work of the WHUSB in action
Building relationships – Working with the Chair/Vice-Chair and all Supporter Reps on the agenda, actions and minutes of meetings
Terms of Reference – A new constitution outlining how the Supporters' Board will run, agreed in partnership with the elected Supporter Reps.
West Stand representative David Baker and Jim Dolan, who represents LGBT+ fans, were elected as Chair and Vice-Chair of the Official Supporters' Group by their fellow members.
The full list of Official Supporters' Board members is:
Greg Smith (1966 Season Ticket Holders)
Nik Tucker (Away Season Ticket Holders)
Steve Applebee (Bondholders)
Lee Vehit (Black, Asian, Minority Ethnic fans)
Alex Wilcock (Claret Members)
Jonathan Lock (Club London)
Gary Lawrence (East Stand)
Matthew West (Families & Juniors)
Jim Dolan (LGBT+ fans)
Stephen Bush (Bobby Moore Stand)
Don Adams (Over-65s)
Wayne Baldacchino (Sir Trevor Brooking Stand)
Louise Fry (Under-25s)
David Baker (West Stand)
Alison Bowditch (Women)
Cathy Bayford and Trevor Bright (Disabled Supporters' Board)
Paul Richman (Official West Ham United Supporters' Club)
Sean Whetstone (Claret and Hugh)
The meeting closed with questions from the floor, which included queries on subjects including London Stadium WiFi, the pitch surround, the food and drink provision for supporters and matchday entertainment.
Further items discussed included the forthcoming increase in London Stadium capacity to 60,000 and the process for away match ticketing.
Full minutes from the meeting will be published in due course on whufc.com
The Club worked together with supporters on a whole range of subjects last season, including concourse facilities, Supporter Liaison Officers and the Bobby Moore commemoration plans on the 25th anniversary of his passing, along with concourse heritage displays.
The Official Supporters' Board, along with the Disabled Supporters' Board and Junior Supporters' Board, has been created as a platform for meaningful engagement so West Ham supporters can have their say at the very highest level of the Club. 
What's more, it gives the Club a new opportunity to consult with supporters and use that feedback to help steer the strategic direction of the Football Club and enhance matchdays at London Stadium for all of our loyal and passionate supporters.
To find out more about the Official Supporters' Board, visit our dedicated Official Supporters' Board FAQ section on Hammers Help or email [email protected]
Click here for profiles of the Official Supporters' Board members