Quickly Kevin… podcaster and West Ham TV presenter Chris Scull casts his mind back into cult Claret and Blue history…
I'm a huge fan of a 'West Ham fan turned West Ham player' story; and it's a well-trodden path. In recent times, we've seen 'Mr West Ham' Mark Noble and Jack Wilshere become full fee-paying members of the West Ham Fan/Players Club.
Then there are the Premier League players out there masquerading an affection for their current teams, when a few of us know where their true love lies (Benik Afobe and Jonjo Shelvey, I'm looking at you).
Going back a few years, history is further littered with examples of West Ham fans who went on to become established members of the first team; Tony Cottee, Sir Trevor Brooking and Pat Holland, to name but a few.
But there's always been one West Ham fan turned West Ham player whose story and relationship to the Irons is more peculiar than most; Mr Jimmy Greaves.
As I've mentioned in this column before, my award-nominated podcast (SERIES 4 IS AVAILABLE TO DOWNLOAD NOW!) has a feature called 'Do I Remember This Right?'; for Jimmy Greaves, I have a very specific memory from some long-forgotten VHS which is worth sharing.
I'd grown up knowing Bobby Moore was a West Ham legend; I never saw him play, but my family shared the stories. He was a World Cup-winning captain and he was West Ham through and through. And that was not up for debate.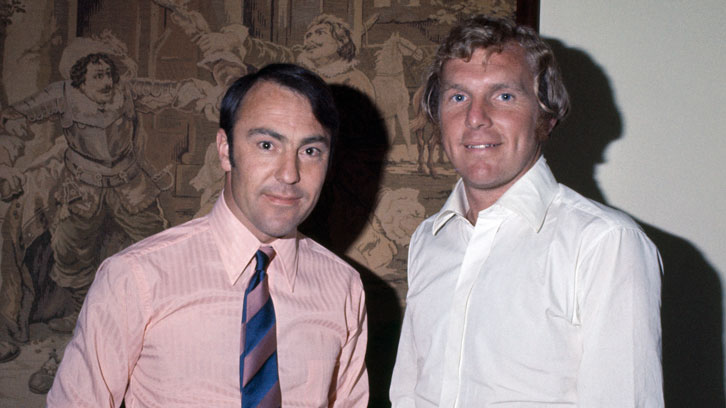 Fast forward to me binging on West Ham videos, when up popped an interview with Jimmy Greaves about Bobby Moore – and here lies my 'Do I Remember This Right'?
Jimmy explained that him and Bobby Moore were inseparable in the 1960s, the best of friends. He went on to say that he had grown up a big West Ham fan, but somehow found himself playing for Spurs.
Conversely, he explained that his big pal Bobby Moore was playing for West Ham but, and here's the shocker, had grown up a Spurs fan! Needless to say, this revelation rocked my world.
Fortunately for the sanity of West Ham fans in the Sixties, Bobby Moore never did get a move to Spurs. However, West Ham fan and Spurs' all-time record goalscorer, one Jimmy Greaves, did come the other way to play for the club he'd supported as a boy, joining West Ham United in 1970.
Skipping forward a few years, I had only known Jimmy Greaves as the comic sidekick to Ian St John on the Saturday lunchtime TV classic 'Saint and Greavsie'.
The show was a comedic ramble through the day's fixtures and football stories; but also once featured Donald Trump doing the draw for the Rumbelows Cup, even laughing along, despite not having a clue what he was doing, as Greavsie made a joke about 'not having seen a boardroom like this since Doug Ellis's at Villa'! (The clip is well worth looking up on YouTube). 
The truth is that Jimmy had a career of scintillating highs and crashing lows. He won two FA Cups and a European Cup Winners' Cup for Spurs, as well as Serie A for AC Milan. But in the World Cup final of 1966, with his fitness in doubt, he lost his place in the team to West Ham's own Geoff Hurst – who went on to secure a hat-trick, a winner's medal and a place in history.
As Jimmy would say some years later: "I danced around the pitch with everyone else but even in this moment of triumph and great happiness, deep down I felt my sadness. Throughout my years as a professional footballer I had dreamed of playing in a World Cup final. I had missed out on the match of a lifetime and it hurt."
For the record, Jimmy would go on to receive a retrospective World Cup winner's medal in 2009.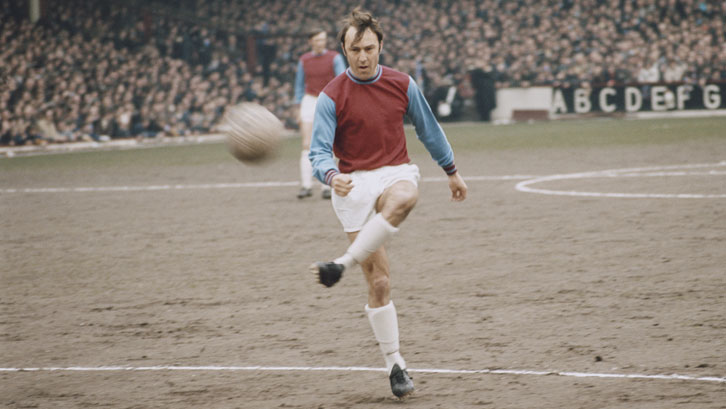 Jimmy's single year at West Ham started brightly, as he scored a brace on his debut against today's opponents Manchester City at Maine Road in a thumping 5-1 win for the Hammers in March 1970.
However, a night out in Blackpool in January 1971, with Bobby Moore and Brian Dear, the evening before an FA Cup tie ended in a 1.45am finish, a 4-0 defeat and the wrath of manager Ron Greenwood.
His West Ham spell ended two months later after 13 goals in 40 appearances in all competitions.
But it's his razor-sharp Manor Park wit, his friendship with West Ham's greatest captain and his well-known ties to Claret and Blue that mark him out as a true West Ham cult hero for me; welcome to my Cult Collection, east London's own and World Cup winner, the one and only Jimmy Greaves.