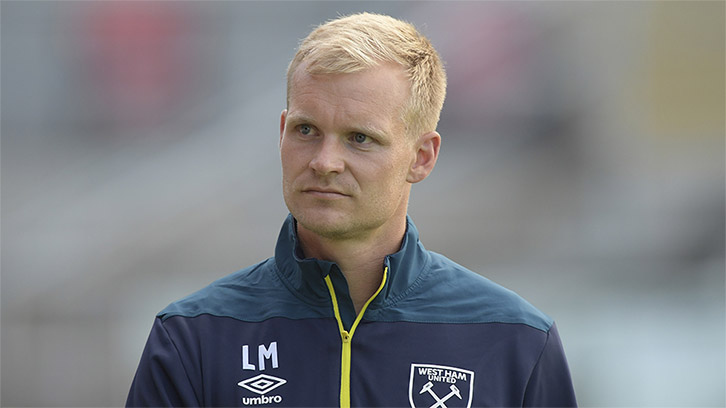 Liam Manning believes his team were a constant threat on the counter-attack on Monday night as his West Ham United U23 side were 3-1 winners at Blackburn Rovers in Premier League 2.
The visitors claimed all three points thanks to a Xande Silva brace which came after Nathan Holland's opener early on at Ewood Park.
And there could have been more goals for the Irons, who struck the crossbar late on and were denied a penalty appeal when the dangerous Holland was seemingly tripped in the box.
But with the victory giving the Hammers – who came into the game on the back of three consecutive defeats – a little more breathing space from bottom-of-the-table Rovers, Manning was delighted with his side, particularly their performance going forward.
He said: "Obviously there are a large number of positives to take out the game, the result being one. It's important that we stay in the league and kick on from there, so we're really pleased. 
"The performance was a little bit inconsistent, a bit up and down. There was some really, really good stuff attacking and going forward. I thought we looked a real threat in that respect, going forward. 
"Nathan Holland is getting back to where he needs to be fitness-wise, and he was a constant threat breaking forward with the ball and we obviously had Xande back tonight scoring goals.
"There were a huge number of positives in terms of individuals coming back but then also in terms of a team, they stuck to the game plan so we're pleased."
Manning and his staff had highlighted the importance of pressing Blackburn high up the pitch at Ewood Park, with the hosts likely to offer opportunities to nick the ball in dangerous areas, and that was exactly what the Hammers did just four minutes into the match.
I thought we looked a real threat going forward. There are a large number of positives to take out the game, the result obviously being one

Liam Manning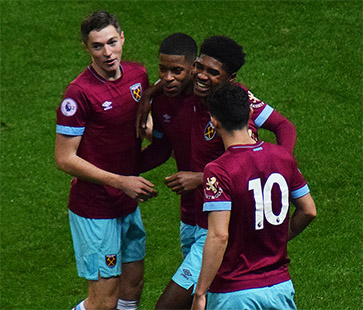 Moses Makasi stole possession and fed Holland, who was able to tap in and open the scoring.
"Credit to the staff who looked at the opposition before the game and it's been spot on this season, how we've analysed the opposition and then it's about dealing with that but also implementing our style," the boss continued. 
"Especially first half, we did that quite well; the keeper kicked a few out of play which allowed us to settle into our game and I thought we did that well tonight. 
"As always, we'll look at the good and bad bits from the game now this week and of course it helps to have a bit of time between games to work on your stuff, which is what we've now got before Chelsea. We have that period of time and that helped us prior to this game; we looked more of a threat going forward and now it's an opportunity to do some more work ready for the next game."
Xande Silva now has seven goals in just six Premier League 2 games this season, while Holland bagged his first of the campaign, and Manning was happy with both his attacking talents' performances.
"Nathan has come back and taken a while to get back to where he needs to be in terms of fitness but to get more minutes in his legs is great for him tonight," he explained. "He put a real shift in and was a threat going forward and he was unlucky not to get a penalty as well. He got in dangerous areas and caused them problems on the counter so it's great to have him back.
"Xande is in the right place at the right time! Sean Adarkwa has obviously played a lot with Xande injured and has done well, but he's now got to look and the challenge is to be better than Xande. 
"He's scoring goals regularly and having him back is a big bonus. Ultimately the challenge for the lads is to get in and around the first team and performances like that can only help them."