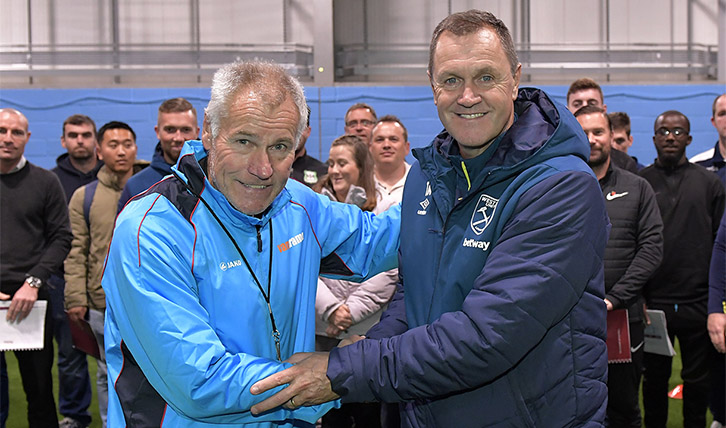 One-time England manager Peter Taylor was the latest football coach to share his experience with West Ham United's Official Coaching Association during a session a fortnight ago.
The former winger, who was capped four times by his country in his playing days, now manages National League outfit Dagenham and Redbridge but gave up his time to the Association who were able to learn from his vast management knowledge.
As well as listening to and questioning Taylor, who took charge of Leicester City in the Premier League before and after many spells as a boss in the Football League, the Association's attendees received an insight into preparing for an Academy match, as the Hammers' U23 coaches Liam Manning and Steve Potts put on a preview session.
Ahead of the side's Premier League International Cup clash against GNK Dinamo Zagreb the following evening, the duo went through their research prior to the game, what they expected from the fixture and how they were looking to set-up their side.
The Association coaches were then given two tickets each to the International Cup Group A game at Dagenham's Chigwell Construction Stadium in order to see how the match eventually panned out.
You often hear people say: "He's a good football person". Peter has spent his whole working life just in football and it's some testament to him.

Terry Westley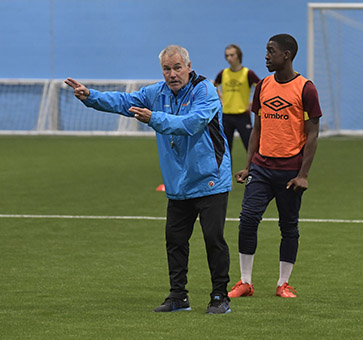 Terry Westley, the Academy's Manager, believed it was a valuable exercise for the local coaches and said the game did, in fact, play in a similar way to how his coaches expected.
"Liam [Manning] and Steve [Potts] did a preview of what they thought the Zagreb game would look like," he explained. "They did their work and told the Association that Zagreb would sit back, they'd be defensive and look to get goals on the counter. 
"All the attendees got two tickets to the game so they could go and watch it and it panned out very similar to what Liam and Steve were fearful of; that we could have a lot of control of the game but still get beat. We maybe didn't take the opportunities when they came to us and then switched off a little defensively when they counter attacked. 
"The game panned out very similar to what they said, so it was great for the coaches to see what goes into preparing for a match like that."
Westley also spoke about the impact of Taylor, who has built an incredible CV at all levels of football throughout his career.
"You often hear people say: "He's a good football person", and you hear that a lot in the game," continued Westley. "I've known Peter for a long time, from when he was a youth coach – I go back a long time with him.
"If you look at his career – imagine leaving school at 15, and you go through as a player and play for England, you go into coaching and coach at top levels of football, right through to this day. He's spent his whole working life just in football and it's some testament to him. There aren't many like that, who have spent their time playing and coaching. 
"He's been to Bahrain, to India, in England of course; England as a full-time manager in one game when he gave Beckham the captaincy, and the youth levels, he's had some career as a player and a coach, and that's something that really came over in the evening. His understanding as a player and a coach really came across to the Association which was really pleasing.
"The evening was a combination of many experiences throughout the evening; from someone through from grassroots football right through to international football, and then Liam and Steve giving them an overview about planning for a game at Academy level. It was another great night for the local coaches' learning."
The next Official Coaching Association evening, which is planned for mid-December, will likely see a current Football Association coach come in to speak about leading one of England's youth teams.