Manuel Pellegrini cut a frustrated figure after watching his West Ham United team lose 4-0 to Premier League leaders Manchester City.
The Hammers created as many goal attempts as Pep Guardiola's side at London Stadium, only for hesitant defending and wasted chances of their own to cost them dear.
David Silva, Raheem Sterling and Leroy Sane all reacted quicker than their respective markers to put City three up within 33 minutes, with Marko Arnautovic and Michail Antonio both denied goals of their own at 2-0.
Into the second half and Antonio hit the post and Arnautovic and Fabian Balbuena headed off-target before Sane rubbed salt in the wound with a last-minute fourth.
These games, playing in this way, will help us to improve more than playing as a small team just trying not to concede goals

Manuel Pellegrini
"It's difficult, when you lose a game 4-0, that you have positive things, but the three goals we conceded in the first half were not acceptable defending, as they were very easy crosses inside the box without marking," Pellegrini lamented.
"Normally, Manchester City create a lot of options, but they scored three goals and they hadn't created a lot of options. I think the most clear chance they had in the second half, Fabianski made a save, but the others we conceded too easy crosses for those goals.
"We created as much as Manchester City created and had clear chances to score, but we didn't score.
"We continued playing the same way and had a couple of clear chances to score – one with Antonio alone with the goalkeeper and he hit the post.
"I was absolutely sure before, with the power and pace of Michail Antonio and Marko Arnautovic, that we could create five or six clear chances to score, but you must take those chances.
"More than that, I repeat, it is difficult to have positive things when you lose 4-0, but I think that I was happy in the way we played.
"These games, playing in this way, will help us to improve more than playing as a small team just trying not to concede goals, but when you play against big teams without important players, you cannot make mistakes."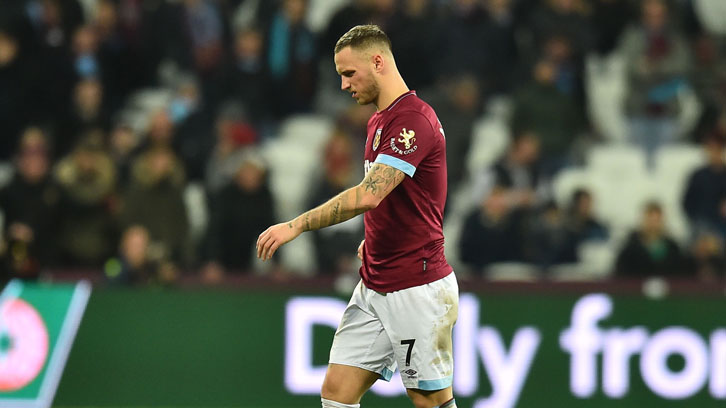 Pellegrini had sent his team out in an ambitious 4-4-2 system, with Antonio partnering Arnautovic in attack, and called on them to 'play like a big team'.
The approach saw the Irons create plenty of opportunities – nine in total.
It was the fact they did not take any of them that the manager felt was the difference between a heavy defeat and a far more positive result.
"I don't think we gave them too much respect," Pellegrini insisted. "If you saw the game from the first minute, we tried to dominate the game and we played the first ten minutes more in their side than in our own side.
"In the same way, if they scored a goal because we had too many players attacking, I would be upset, but we had all our defence in our own area, so I repeat, it was just a bad day of defending.
"If you don't make inside your box, they will score the goals. They didn't have six chances and score three, but they had three crosses and scored all three."