Reaction
Antonio: I don't feel the score showed the way we played
Michail Antonio felt a 4-0 scoreline was not a fair reflection of West Ham United's London Stadium meeting with Manchester City.
The Hammers created as many goal attempts – nine – as their opponents, but City were by far the more clinical, netting three times inside the opening 33 minutes to set the foundations for their victory.
However, had West Ham taken one or more of the chances they created, with Antonio himself being denied by Ederson and hitting the base of the post and Marko Arnautovic seeing a goalbound effort blocked, the No30 felt it could have been a different story.
"We had quite a few chances, myself and Marko, but it was just one of those things where it wasn't our day for it," said Antonio. "We just need to pick ourselves up.
"It was a positive game as I don't feel the score showed the way we played. I feel we had four good opportunities but we didn't take our chances.
"There are loads of positives we will take from that game and move on to the next one."
It was a positive game as I don't feel the score showed the way we played

Michail Antonio
West Ham kicked-off in a 4-4-2 formation, with Antonio and Arnautovic partnered in attack, rather than sitting back and inviting the unbeaten leaders onto them.
The tactic meant the Irons took the game to the champions on occasion, but also left space for Pep Guardiola's side to create chances of their own, which were ruthlessly taken by David Silva, Raheem Sterling and Leroy Sane.
"The gaffer's mentality is to 'play like you're a big team', so it doesn't matter who we're coming up against, we're believe we're going to go out there and get the three points," Antonio observed. "We're not going to sit back.
"I feel the tactics worked as there were loads of chances for us in the game, but they're a quality team and they had four good chances and scored four goals.
"I don't think Fabianski had a save to make in the game so, as I keep reiterating, we'll take loads of positives from the game and take them into the next game."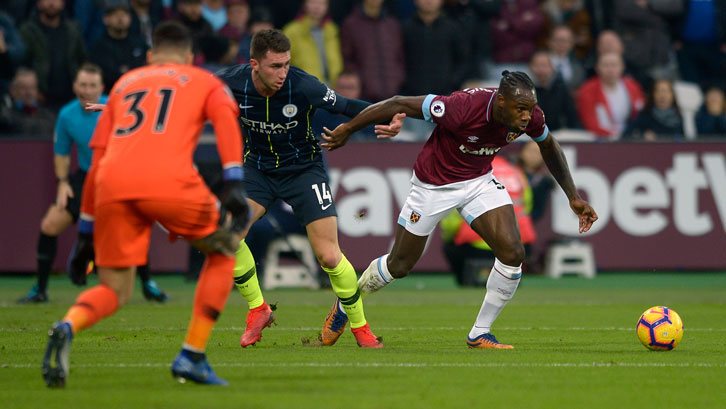 West Ham head to Newcastle United next weekend, where Antonio and company will undoubtedly have a better chance of winning than they did against a City side which has now lost three of their last 51 Premier League matches.
"It's easy for me to say, as an attacking player, that we should have done better defensively because they've had four good chances and taken all four, but I'm just going to say they are quality and took their opportunities and we didn't take ours.
"We have to move on now as it's now in the past and we have to think about the future.
"Like I said, they didn't run away with the game. They weren't all over us, but as soon as they got the lead, they kept the ball. I'm not saying they ran all over us, because they didn't.
"We played well, we showed what we can do and we created chances, so there were loads of positive. The only negative about the game was the scoreline."