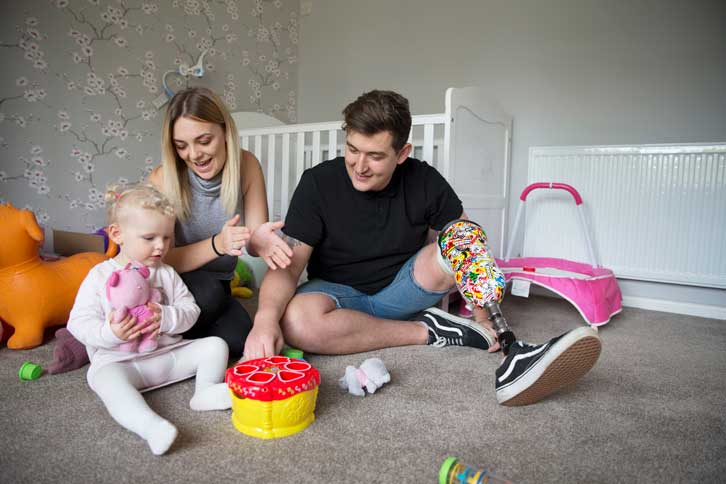 West Ham United are set to celebrate their partnership with Blesma this Saturday, with the game against Manchester City dedicated to raise awareness for the charity. 
Ahead of the game, the Hammers will share the incredible work that Blesma do for the limbless veterans across the United Kingdom...
Joining the Army was a boyhood dream come true for Jonny Holloway. Becoming a soldier transformed his life for the better and then, one day, it tragically changed his life for the worse when the vehicle he was travelling in drove over an Improvised Explosive Device in Afghanistan.
Jonny suffered severe head and leg injuries, and after two years battling to try and save his left leg, he opted to amputate it below the knee in 2016. "Waiting for my twelfth birthday so I could join the Army Cadets felt like forever, but it was definitely worth it. I loved it and five years later, in August 2009, I joined the Army. I was just 17 years old.
"Growing up, I had wanted to be an Infantryman and work on the front line, but I did a Public Service course at college which made me decide to join the Royal Armoured Corps. It was the best of both worlds - I was very hands-on, so working on vehicles and then doing the Infantry side, both on the front line, suited me perfectly.
"Then, in 2013, I deployed on my first tour of Afghanistan. It was one of the last for British Forces and I was tasked with defending other troops who were closing down the camps and bases. I knew it was going to be a busy tour and that I was often going to be at risk.
"I was injured in March 2014, when the vehicle I was in drove over an Improvised Explosive Device and I was blown 13 feet into the air. As the vehicle landed we came under enemy fire. It makes me feel short of breath just thinking about it now! I remember opening my eyes and thinking; 'Oh, that felt like a proper shuffle!' Then my left foot felt like it was on fire. The force of the explosion had ripped straight through my left leg, shattering everything in its way.
"After an intense fire fight, the guys eventually got me to safety. The blast had mangled my leg and had given me a brain injury which has affected my short-term memory and concentration, and it damaged my right eye to such an extent that I can no longer see out of it. I found losing my sight extremely difficult to deal with - not just because of the loss of vision, but because I'd wake up every morning feeling sick and dizzy; like I was drunk. It took quite a while to get used to.
"At the same time - and for the next two years - I fought to keep my leg despite doctors wanting to amputate it. I was stubborn and believed it would heal. It was a very dark time for me mentally and physically. I couldn't put any weight on my leg, and being at home and in pain all the time made me feel like a burden to my girlfriend, Lauren. She was great though - constantly ringing around for support to make sure I wasn't forgotten about.
"We got married in January 2016, and a few months after that I admitted defeat with my leg and had it amputated below the knee. That was in the June, and a month later I was walking again! It felt as though I had my life back at the click of a finger! I'm glad I tried everything to keep my leg but suddenly, because of the amputation, I got my independence back. I was even able to drive again!
"Then, in 2017, we had a baby girl; Amalie. My life is mostly positive now. I still have days when I struggle, but I know I would be in a worse place if it wasn't for Blesma. My Support Officer has gone above and beyond for me and my family, and was instrumental in helping me try different sports, apply for different jobs, and attend different courses.
"Last Remembrance, I gave a talk at a local school because a teacher friend had told me many pupils didn't understand why they wore poppies. The head teacher was impressed, and asked me if I would volunteer, working with students who have behaviour problems. So now I work as a pastoral mentor at the school - there's nothing better than the rewarding feeling of helping the kids.
"I do a lot of walking now and after a long day at work, I just want to take off my prosthetic. Blesma is helping me to adapt my house so I can use a wheelchair in the evenings and still help out with Amalie. It will be great once its finished!"
Blesma needs to raise more than £4.5million in 2018 to continue this vital work. You can help them do that today by texting 'WHFC86 £3' to 70070 to donate £3 to Blesma.