West Ham United are delighted to announce that Valentines High School has become the first official Sister Schools partner of the women's team.
The scheme will see students at Valentines in Ilford receive tickets for West Ham women's home matches at Rush Green Stadium, as well as benefitting from player appearances, coaching sessions, behind the scenes experiences and much more. 
Managing director Jack Sullivan has welcomed Valentines to the West Ham family and is looking forward to working closely with the school going forward.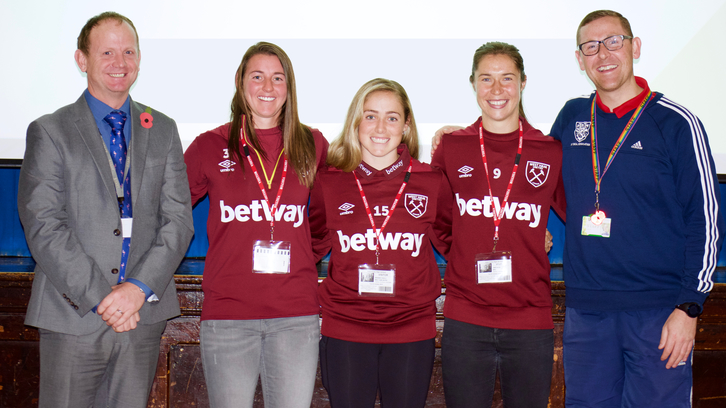 "I'm thrilled that Valentines High School has become the first to link up with West Ham United and our women's team," Sullivan said. "Working with clubs and schools in our local community is vitally important to the progression of women's football and to the empowerment of girls and women of all ages, which we at West Ham are fully committed to.
"I'm looking forward to welcoming headmaster Richard Laws and his students at Rush Green for many of our matches and would like to encourage other schools interested in joining our Sister Schools project to make contact."
In honour of the partnership, Valentines invited West Ham's Jane Ross, Erin Simon and Brianna Visalli to participate in a school assembly with Key Stage 3 pupils, where the players took part in a question and answer session. 
The trio spoke about breaking into professional football, their footballing idols, and the challenges they have faced as females in sport, before signing autographs and posing for photos.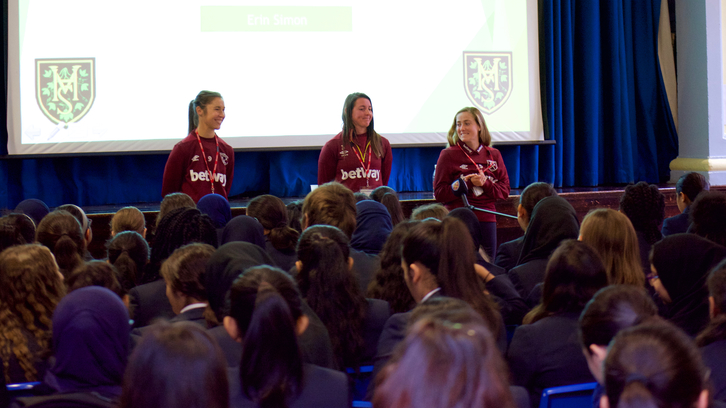 Headmaster Laws said: "I think it is partnerships with outside agencies such as West Ham that will really bring the x-factor to our school. Students obviously come to school to get a good education and good exam results, but it is events with West Ham players that they will remember. 
"The messages that these professional footballers can bring will inspire our students and hopefully our girls can take that message of empowerment into their day-to-day lives. 
"This partnership is not only about sport. It's also an empowering partnership; one that says loudly, clearly and strongly that women and girls can do what they want, and should do what they want, and nothing should be a barrier to their success."
Schools wishing to receive more information on how to become involved in the West Ham women's Sister Schools project can email [email protected] for more information.