AS Roma Fnatic player DamieHulk is the winner of the first ever West Ham United eSports Cup powered by Basset & Gold final, claiming the £10,000 winners' prize. 
DamieHulk saw off 15 other FIFA 19 competitors at Sunday's finals at London Stadium, eventually beating fellow AS Roma player Rannerz in the two-legged final to win the grand prize. 
"Winning feels feels pretty amazing," DamieHulk told whufc.com. "This is the first event that I have won at, so I'm really happy. I didn't expect to win, especially with us playing in the mode we did. To win in this way makes me even more happy.
"I was able to find some consistency against some really good players today, so I just want to keep getting better. Now I'm targeting wins at more events. "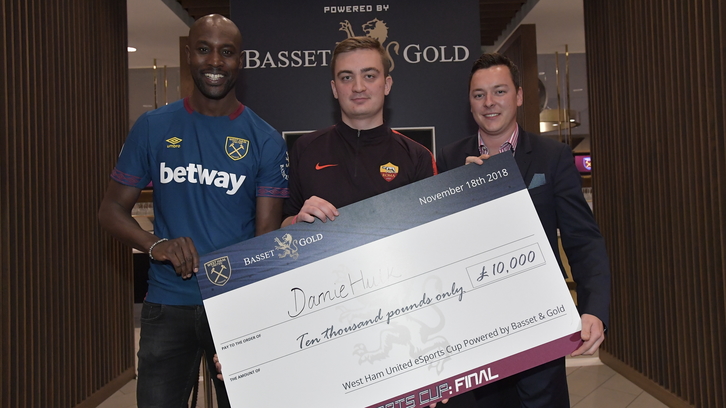 The final saw DamieHulk, who usually plays on PS4, win the first-leg on Xbox by a 3-1 scoreline, putting himself on the front foot heading into the game on his preferred console.
He continued: "I started my journey with FIFA on Xbox so it was easier for me than Rannerz, so when I was 3-1 up after the first leg I knew I just had to keep my composure and hold on. 
"I just tried to play my game in each match. Every game is tough and it's not easy to play well, but I just wanted to play my way, and it worked out."
Having now won the £10,000 prize pot, DamieHulk admitted he isn't sure what to spend the money on, having not expected to go all the way and claim the reward.
He added: "I didn't expect to win so I'm not sure what to do with the winnings! It's a lot of money so it's a nice problem to think about."