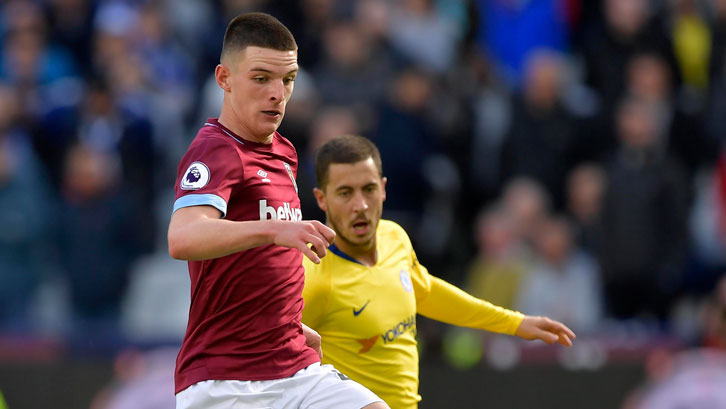 It was no surprise when, after another fine pre-season, Declan Rice was in West Ham United's starting XI at Liverpool for the first Premier League game of the Manuel Pellegrini era.
By the player's own admission, he struggled that afternoon at Anfield, where he was replaced at half-time and then left out of the squad completely for the home opener against AFC Bournemouth.
A month later, however, with West Ham without a win and a single point after four top-flight matches, the 19-year-old was back in the team at Everton, where he responded with a superb performance in a 3-1 victory.
He has hardly looked back since, playing consistently well and looking ever more at home in a role that is vital to any team's success – central defensive midfield.
I'm just trying to always keep the game ticking, as well as doing the defensive side of the game

Declan Rice
"I'd say Everton away was my best performance since I came back in, because we'd lost the first four and we couldn't lose five in a row," Rice recalled. "The manager changed the team up and we went out there, everyone played really well, we won our first game and got the three points and there's no better feeling than that, to be honest.
"If you compare the first game I played at Liverpool compared to the ones I'm playing now, my positioning at Anfield wasn't the best for a holding midfielder. Positioning is one of the main things when you play in that position, because you've always got to play in the centre of the pitch.
"I always look back at that Liverpool game because it was the first time I'd played CDM (central defensive midfielder) in a while and I was not really in the back four, I was wide, and sometimes it's not about that. You've just got to hold your position and trust that the ball is going to come near you.
"I think, since I've started to do that, the amount of interceptions and tackles I have made has gone up."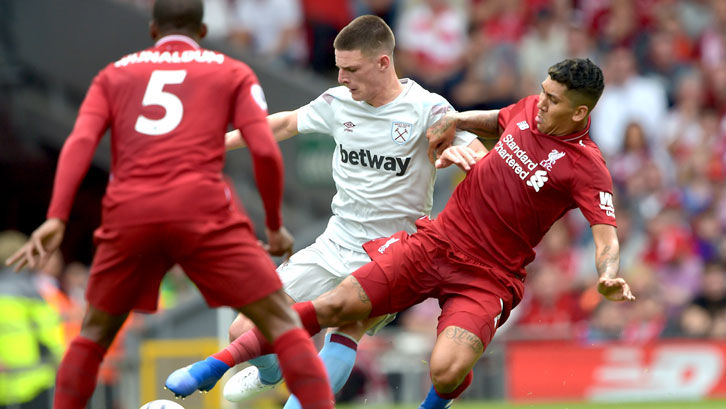 In Brazilian football terminology, the central defensive midfielder position has its own term – Volante – which translates into English as 'steering wheel' and denotes the importance of the player who fills it to his or her team.
To that end, and in addition to his defensive contribution, Rice is an influential figure when it comes to setting the Hammers on the attack.
Only three West Ham players have made more passes in the Premier League than the teenager's 379 – and he has featured in just nine of the club's 12 top-flight fixtures.
Of the players who have started more than four league matches this term, only Issa Diop has a better pass-completion rate than Rice's 86.3%, meaning he rarely gifts possession to the opposition in potentially threatening areas of the pitch, too.
"In this position, I also get to play and go forward with the ball," Rice confirmed. "I don't try to over-complicate anything. I just play what I see, because once I started over-complicating things and giving the ball away, there's nothing worse than having to chase back for the ball so, when I get the ball, I just look to get my head up and give it.
"I'm just trying to always keep the game ticking, as well as doing the defensive side of the game.
"You have to be fitter as it's a much more intense position than centre-half, but I'm really, really enjoying it and long may it continue."